A Must Read: This Research Goes a Long Way to Explaining the Popularity of Justin Bieber
If you're reading this, chances are you're a major music fan.  And I'm willing to bet that just about everyone you know loves music the same as you.  So if everyone you know (and everyone they know) is serious about music, how is something like Justin Bieber or Katy Perry possible?
Simple.  While there may be millions of us hardcore music fans, there are billions of casual music fans.  For whatever reason (and let's not judge), music just isn't as important to them as it is to us.  These people like songs they can sing along to on the radio and tap their toes to in the dentist's office.  And if they buy music, they buy the most mainstream stuff–i.e. the stuff they know.
Digital Music News has an interesting article on how much the general population is into music.  And the answer is "not nearly as much as you think."
Start with this chart and then click here read more.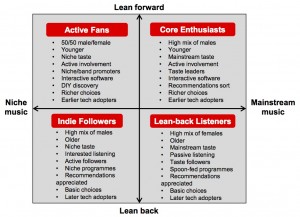 Now let's go a little deeper.  Mark Mulligan has this post at Music Industry Blog wherein he explains the "superstar economy" of the music biz.  This pie chart sums it up pretty nicely.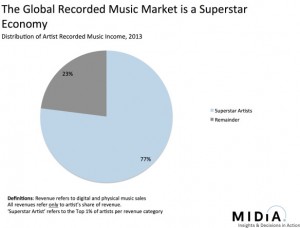 Like I said, there may be millions of us, but there are billions of them.