Muzit: An Alternative Approach to Piracy
Muzit's policy on people who download music without paying for it is kind of counter-intuitive: If you can't beat it or stop it, turn it into an opportunity.
Tommy Funderburk is the CEO of Muzit, a Santa Monica, California-based company that has decided to turn the tables on what some would consider music piracy. A musician who has recorded with Airplay, Boston, Whitesnake and other bands, and the founder of PayArtists, a peer-to-peer marketing platform for the music industry, Funderburk says that while there's an ongoing and evolving conversation about the role big data plays in helping the music industry reinvent itself, his company wants to do something different.
"We come to big data from the side of the copyright owner, as recording artists ourselves, people who have been in the van and traveled around, playing concerts," he says. "We think information is great but it's very difficult for an artist to know what to do with that information at time."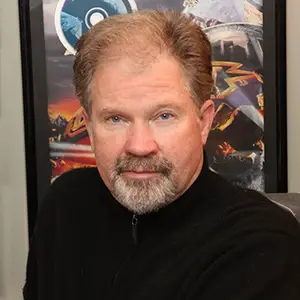 What Muzit suggests is that musicians take the information obtained or left behind every time a track is downloaded from a file sharing service like BitTorrent and turn it into an opportunity to engage with fans.
"We're not condoning what some people call piracy," Funderburk explains. "We're trying to be realistic. We understand every song, every movie, every video game is already shared on the internet. We've watched the entertainment industry engage in a futile exercise, to try to find some college student and fine them for thousands of dollars (for downloading music without paying for it)…These are your fans. Why would you treat your fans this way?"
Instead, using a proprietary system that Funderburk couldn't disclose other than to say it's similar to the methods used by lawyers to find and track down so-called pirates, Muzit provides that information to artist as a way of opening the lines of communication.
"We do have the ability to see people who are sharing our music online, and we have the legal right to communicate to them," he says. "We decided that there's a letter we'd like to send to someone as an open invitation to join the team as opposed to becoming an enemy."
Napster could've been a tremendous boon for the music industry, if the industry had recognized it as being a "giant distribution platform" instead of a sinkhole of lost cash and potentially endless lawsuits. As more music fans grow up with the expectation that everything on the internet should be free, or that music can be accessed without having to pay for it—whether that's right or wrong is immaterial at this point, he suggests—"We can lay down and cry or we can try to make some good out of it," Funderburk says. "Our policy is to monetize the ongoing relationship, not to try to get money for that one song. The song opens the door, it means we're legally able to say hello. We're monetizing everything the artist might have beyond that song: concert tickets, green room experiences, merchandise, T-shirts, a relationship."
When pressed to explain how Muzit's process works, or how it's legal, Funderburk stresses that the company uses the same legal techniques that allow attorneys to track down people who download music without making a purchase. "In the US, the Digital Millennium Copyright Act says if the copyright owner is able to identify people who downloaded their music, they have the legal right to communicate with them. The people we represent are copyright owners who choose not to alienate their fans."
Most artists, if given the choice, probably wouldn't want to sue their fans but would rather reach out to them and find other ways to win back some of the revenue lost through songs, Funderburk explains. He points to The Mavericks, an Americana band that signed with Muzit when the company first launched last fall. After finding some 300,000 people who downloaded music from The Mavericks' catalog, the band, with help from Muzit, opened an online contest to win a signed guitar. By submitting an email address, a fan was entered into the drawing. The lucky fan, in Kansas City, won the guitar, but the band got an even bigger haul, expanding their email database and finding huge clusters of fans, including in Europe and South America. The band now has a better idea where to find their fans and how best to spend their marketing dollars and plan tours in order to capitalize on interest.
Muzit might only be six months old—he jokes about the company being the type of overnight success that only took years to achieve—but Funderburk says his office was flooded with calls and interest from "music labels, music publishers, attorneys, lots of indie bands, especially lots of EDM bands contacted us to sign up for service." EDM musicians in particular embrace the idea of sharing, but that doesn't get them email addresses or bring in any cash. Similarly, while social media is a cost-effective way to reach fans, because it's mostly free, it's almost impossible to translate millions of fans or followers into millions of dollars.
Fans might be skeptical or turned off by an email that "automagically" shows up in their inbox after downloading a song without paying for it, but Funderburk is confident more will be interested in and curious about engaging with their favorite artists.
"The reality is, we exist, we were created by artists and for artists. Our aim is true," he says. "We're the real deal. Over time we'll either be the real deal or we'll be a bunch of liars. We don't scam people. When people realize it's their favorite artist—if you really like Bruno Mars and Bruno Mars reaches out to you, if you don't accept it, that's up to you. You'll be really jealous when your friends who got the invitation got free tickets and you didn't."
Fans who receive emails from the artists who work with Muzit are the ones who choose to opt in, something Funderburk says separates what his company does from what U2 did with its album released via iTunes. "That wasn't a request. There was no option there. That was forced upon you."
The industry has spent more than $300 million suing 80,000 people. If those people had been offered a handshake of friendship instead of the threat of a lawsuit, imagine how different the industry might look today, he suggests.
The concept is attracting some big-name talent, including country stars LeAnn Rimes, Toby Keith and rocker Richie Sambora.   They're also working with the estates of Isaac Hayes and Frank Zappa. Funderburk insists the list will grow and is even bigger than what he can say at this time, with more artists interested in signing on all the time.
"We're open to all people who want to be friends with music," he says. "This was created by artists, for artists. In our model, Muzit doesn't make anything unless we can help the artist make something." Traditionally, the music industry writ large takes up to 90% of the money that an artist could get by selling their music, or merchandise, directly to fans. "If you don't need a massive record label, make your own music and let Muzit help you get it to your fans. I think that's what they call a disruptor. We're hoping for the labels to embrace it –the artists sure get it and hopefully one day the labels will too."