My Bloody Valentine Album: Got It! Here Are Some Initial Thoughts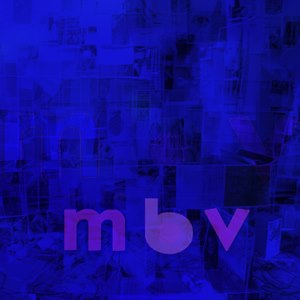 I've only had a chance to breeze through it once, but here are some first impressions of mbv, the first My Blood Valentine album since November 4, 1991. And before you ask, yes, it was recorded. mixed and mastered entirely in an analogue environment. No Pro Tools here.
Before we get into the songs, I didn't misspell any of the titles. MBV wants them all rendered in lower-case letters.
1. she found now (5:06): Mid-tempo melodic fuzz with barely-there rhythm track. Major-key, slightly wobbly floatiness to start the record.
2. only tomorrow (6:22): Very Loveless. More dreamy vocals, fuzzy with endless sustain overtop wobbly drums. Although there are parts of the guitar arrangement that could be used as WMDs, there's lovely hook repeated throughout the song. This will sound great in the car.
3. who sees you (6:11): So much wobbly in the guitars that you'd swear that it was tracked using magnetic tape that had been randomly stretched. Maybe it was, come to think of it…
4. is this and yes (5:07): Almost churchy organ subtle thumpy beats and lots of dreamy "oooo's." More of a soundscape than a song, really.
5. if i am (3:54): I'm listening to individual tracks and not the album as a contiguous whole, but it sounds like "Is This and Yes" might segue directly into this song a la Loveless. I somehow sense an early 70s pop influence buried deep in the mix–something soundtrack-y, maybe? More study is required. Song ends with some analogue tape effects. Is that part of a segue into…
6. new you (4:58): Could this be a radio single? Tremolo guitar (think a happier-sounding version of the hook from the Smiths' "How Soon Is Now") with hooky vocals, a punchy, straight ahead drum beat and the fuzz stripped right back. If a commercial modern-rock radio station was looking for a nice, safe single to show that they're cool enough to play the new MBV, this is probably it. See?
7. in another way (5:31): Interweaving discordant notes (almost bagpipe-ish!) lead into rolling drums and about 175,000 layers of guitars. Give it time. The your ear resolves itself to the cacophony within 90 seconds or so. Some is working on a mash-up with Big Country's "In a Big Country" right now.
8. nothing is (3:34): Amplifier noise carried over from the last song leads into drums that wouldn't sound terribly out of place on a Ministry album. Actually, scratch that; it sounds more like Ringo's drumming over the fade of "Strawberry Fields Forever." The song–an instrumental, actually–is just one big loop that slowly increases in volume in the same manner that "Pinion" does leading into "Wish" on NIN's Broken EP. More soundscape action, in other words.
9. wonder 2 (5:52): Heavily flanged drumming that sounds like a jet plane flying overhead leads into a miasma of kitchen sink production. It sounds like several songs played on top of each other at the same time. If you want clear out your house of stragglers after the party has broken up, put this on. Loudly. This is the reaction they'll have:
Bottom line? This ain't 1991, of course, so no one should expect MBV to light the world afire in the same way they did with Loveless. In the 21+ years since, there have been many shoegaze bands who took Loveless and ran with it; MBV now sounds like a band inspired by…MBV.
Sorta makes sense, doesn't it?
This isn't to say that this isn't a good record. Anything from Kev and Crew is very welcome. Will I buy a copy? Hell, yes. You should, too.
mbv (Yes, all lower case, just like the song titles) will be released in three formats:
Download only (16-bit 44.1 K WAV file, 320 kbps MP3 or 24-bit 96k WAV file)
CD/download combo pack
VERY limited 180-gram vinyl/CD/download package.
The digital versions are available now (if you can get on Kev's crappy server). CD and vinyl editions will be shipped out within three weeks of your online purchase.