Mylo Xyloto? WTF, Coldplay?
Coldplay's fifth album, the Eno-fied Mylo Xyloto (pronounced MY-lo ZY-le-toe), will be out October 24th.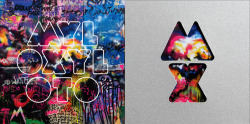 Expect a digital version, a basic CD, a deluxe edition and 180-gram vinyl packages. From the looks for things, EMI is spending a lot on packaging. And let's face it: to say that the fate of EMI is resting on the success of this album isn't much of an understatement.
The second single–the follow-up to "Every Teardrop is a Waterfall"–will be "Paradise." Expect to hear it by September 12.
And before you ask, no, we don't really know what "Mylo Xyloto" means. Taken literally, it means "disambiguous hoverflies." You can look it up.