Need a Father's Day gift? Check out this robot speaker
Does your dad dig robots? Have a tech-crazed, forward-thinking father? Here's a gadget to consider: A humanoid robot-shaped speaker.
The machines are taking over our beats.
Sound Heroes is a Bluetooth speaker shaped like a robot that looks vaguely human. It's a crowdfunding campaign, of course, fully funded within four minutes of launching and promising to "completely immerse you in an otherworldly experience."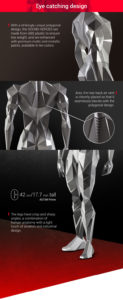 Kalium Labs, the speaker's creator, says the robotic character, named Ad'om, "Is more than just Bluetooth speaker…Ad'om stands alone as an archetype of ultramodern décor. He's also much more than superficial with a 10 watt treble speaker in his hero-sized chest and positioned on a dock with more an active 20 watt subwoofer with full range spectrum sound," according to the company's press release. Ad'om, the robot speaker, doesn't just provide sound, but is an "ambient light source that allows you to listen to music with custom colors."
Ad'om even as a fog machine function built-in. What more could you want?!
"Featuring 16 million variations with a multicolor RGB LED dock for an interactive pulsating visual map of the music, which can be customized via the K Heroes app," the company says. "With the K Heroes app, users will discover unique and revealing ways to interact with Ad'om as his universe unfurls, including mobile gaming. Our hard working hero acts as a Wi-Fi extender and can wirelessly charge your smartphone or other device."
There's even a comic book and video game to fully explore Ad'om's world:
A total of $274,746 has been raised by some 1,507 backers, going well over the $20,000 goal originally sent by the company, and there's still a month left on the Indiegogo effort.
Ad'om stands 17.1 inches (45 cm) tall and weighs 6.6 pounds (3 kg). That isn't quite outrageous enough for you? Go for the Ad'om Premium, which stands 10 inches taller at 28.3 inches (72cm) and weighs twice as much, about 12 pounds/5.5 kg.
But, hey, go here and take a look. The first robospeakers are scheduled to ship later this year.