We Need Rules When It Comes to Who Should Wear Band T-Shirts (Plus an Update of What Wall Street 1 Percenters Can Buy)
This guy wearing this t-shirt is not only inappropriate but wrong. Very, very wrong. Morally reprehensible, even.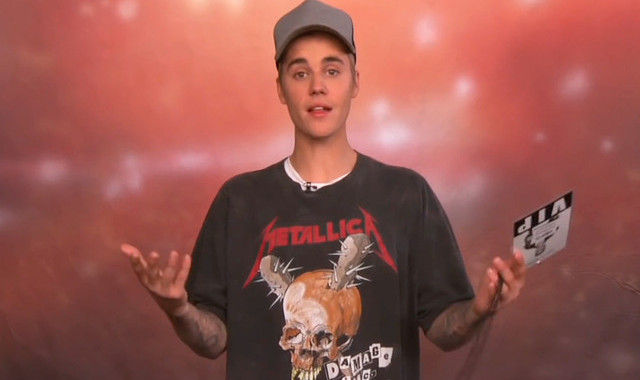 Call me petty and pedantic, but I'm tired of seeing people wear t-shirts of bands they know nothing about. One of the first things I'll do when I finally ascend to the level of philosopher-king is seize Ramones t-shirts from everyone who can't name a single song title. Maybe they should just wear GB Labels t-shirts instead? It would make them look less foolish.
We need some rules regarding the wearing of band t-shirts. The Syndey Morning Herald agrees. They outline a series of what should be unbreakable rules regarding the wearing of band merch.
Do not wear a t-shirt from an artist you don't follow. That just doesn't make sense. Maybe just stick to cat t-shirts. Everyone loves cats. It's not like anyone will question you on how many cat breeds you know. But they might if you wear a band t-shirt without knowing anything about that artist.
Band t-shirts are NOT simple fashion accessories designed to make you look cool. You're just patronizing real fans of the artist. And you're not fooling us, anyway. We know that you are not one of us.
Understand that your image and reputation cannot be repaired by wearing a shirt from a cool band. (I'm looking at you, Bieber and all you Kardashians. And Fergie? You're not fooling anyone with that Iron Maiden shirt.)
Band t-shirts do NOT go with luxury labels. Stop it, Gucci. Doesn't anyone remember the disaster that was grunge haute couture?
What else needs to be added to this list?
Anne suggests the following:
If your parents or a family member attended a concert performed by a band, you may wear their concert t-shirt.
If you or your parents own original vinyl pressing of band, you may wear a band related t-shirt.
If you have at least one complete album of a band in your music library, you may wear a band t-shirt.
___
On a related note, Barney's, the high-end men's store is now offering Black Flag and Joy Division t-shirts for $350. Sure they're crafted of a "brushed Japanese cotton blend"–but WTF, man?
Oh, and there's more. Who wants a $12o0 metal hoodie?