Neil Young's New Music Device is Targeting Dance Clubs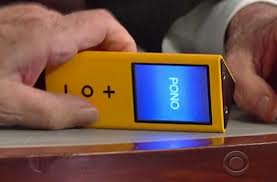 In case you haven't heard, Neil Young has launched a war against bad audio. He hates the sound of MP3s, so he's come up with something he thinks is better.
Pono is his attempt to reinvent digital music as we know it. But how can Pono make a dent in a world that runs on MP3s? Maybe you start with dance clubs. From Hypebot:
Now comes word through a trusted source that Pono employees are approaching dance clubs to try to get them to sign up for this better-than-CD-quality digital music service, which will require a special hardware player because smartphones and most computers don't have the hardware to deal with high-resolution music.
According to a club owner, whose name we're keeping out of this, Pono approached him to pitch its service — even in advance of any sort of commercial launch, or even a website. So apparently, part of Pono's putative plan is to launch with a bunch of venues already on board, in addition to pushing the Pono player directly to consumers like the girl who apparently walked down the street in front of Neil Young one time and led to this whole thing.
This is the first we've heard that Pono will be an enterprise play, in addition to being something that consumers carry around. The move would put the company in competition with Sirius XM, DMX, Roqbot, Pandora, and Muzak, in addition to its already heady task of convincing music fans once again to carry around something besides their phone, just for music listening.
Businesses already distinguish themselves with various marks of quality in the form of stickers for Zagat, Yelp, MasterCard, Visa, and others. Do they have room on their doors for another sticker for Pono HD Music (we suppose)?