New Bills in the US Could Trigger Major Reform for Music Fees on the Internet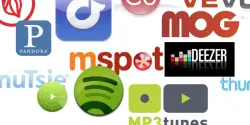 more the radio station makes, the more it pays out in these fees. Popular stations will pay out a million dollars or more out of their pre-tax revenue.
Things are different for online-only radio stations.  Their fee structure is up to TWENTY TIMES HIGHER than what old-school radio pays.  This is just wrong.  it's the biggest obstacle to innovation in this country–and it explains why we don't have services like Pandora.
There's a similar situation in the US.  Under the current fee structure, new online music services will never, ever achieve any economy of scale.  No matter how successful and popular they become, their profit margins will never get any bigger.  That means less money for reinvesting in the business, fewer new services and few benefits to the consumer.
There is, however, a movement afoot to change that.  Billboard has the story on a series of proposals that could radically alter this fee structure for online music services.  And if these bills come law in the US, the ripple effect through other territories (like Canada) could be huge.