New Book Explores LGBTQ Influence on Music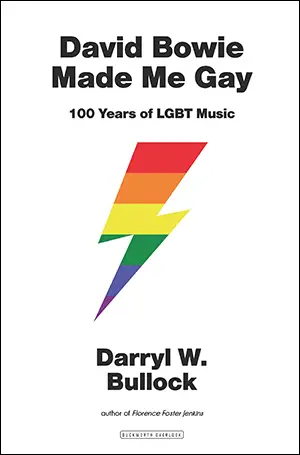 Set to be released this fall, a new book chronicles the real story of LGBTQ musicians. David Bowie Made Me Gay reveals the lives of the people making the records and those who witnessed first-hand the cultural revolution that they helped create. Author and music-lover Darryl W. Bullock documents the LGBTQ community's sexually progressive soundtrack as they struggled for worldwide acceptance. Bullock explores jazz and the blues during the interwar years where many LGBTQ performers enjoyed fame and freedom that they would not see again until the '70s and '80s. He also looks at the rise of disco and glam, genres that led the war for the modern era's most legendary out-gay pop stars. Containing untold riches like Starbuck's "Do You Like Boys" to Lavender Country, the first out country band, this book is a must-read.
Nudge Books comments:
"A fascinating chronicle [and] a necessary and hard-hitting reminder that there is still progress to be made… a comprehensive and compelling work, in terms of its extensive discussion of music, history and, of course, a human struggle for tolerance, acceptance and respect".
The book also looks at LGBTQ influence on other genres of music, including rap, reggae, and dancehall, up to present day. David Bowie Made Me Gay examines how attitudes continue to be challenged in parts of the world where the LGBTQ community still faces extreme oppression, such as Russia, Nigeria, and Jamaica.
Using interviews and contemporary reports, Bullock explores artists like Elton John, Little Richard, Bessie Smith, Dusty Springfield, Boy George, and Sia, among many, many others through lesser-known and cult-musicians such as trans composer Wendy Carlos, Jobriath, and Divine. A collection of hidden histories and an up-close-and-personal look at the legacy that formed our musical and cultural landscape, David Bowie Made Me Gay takes a provocative look at how the spectrum of LGBTQ culture and changes to the mainstream.
Pre-order the book here.