A New Book Inspired by the Music of Rush
Rush fans are a different breed. Once they latch on to the band, they never, ever let go, looking to always go deeper into the music, the lyrics and imagery and whatever (and wherever) else Rush offers.
The latest example of this is 2113: Stories Inspired by the Music of Rush, a 400 page anthology (ECW Press) edited by Kevin J. Anderson and John McFetridge. This is fan fiction on, shall we say, on a higher plane than the crap inspired by One Direction or the sexually-frustrated teen werewolves in Twilight.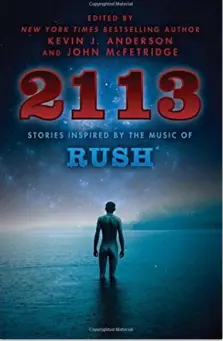 Like what? "Red Barchetta," a song about a semi-obscure Italian sportscar finally gets a backstory entitled A Nice Morning Drive. There's a tale called Gotta Roll Them Bones inspired by (obviously) "Roll the Bones." And Anderson includes a sequel to his 2112 novella. What does the Elder Race do with the planets of the Solar Federation?
There are some clunkers in the bunch and some of the reviews have been less than kind (I'm looking at you, Toronto Star), but Rush fans won't care. This is a chance to go with the band's visions of heroic individualism and (maybe) Randian Objectivism. It's sure as hell easier than reading Atlas Shrugged again.