New Book of Short Stories Each Inspired by a Different Song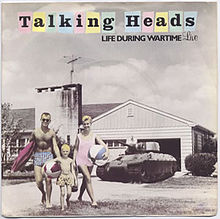 It's called Too Much Too Young, a colleciton of short stories collected by the poeple behind Book Slam, a literary club night that holds regular events in London.  
Here's a sample of "Life During Wartime," which takes its name from the Talking Heads song from 1979.
Life During Wartime
(Talking Heads, 1979)
By Jesse Armstrong
If the Minister of State for Defence had been pushed, if he'd been forced to describe in the most basic terms what had just happened, then he supposed he would have had to say he'd just got wanked off by his special advisor.
But it didn't feel like that. It felt a great deal more complicated than that. It felt as though in the corner of the think-pod, added by his predecessor to one end of the secondary meeting room, something bursting with transgressive energy had just exploded. Something commensurate with, and associated to, this day of imminent potential.
'All okay?' He asked Liz.
'Yeah.' She said.
And if he'd been asked, as a slightly pushy supplementary, precisely what she'd gotten out of it, physically speaking, he probably wouldn't have known quite what to say. He thought of himself as a considerate lover. And in this case that consideration had been demonstrated by his brushing the back of his hand against the springy triangle of Liz's under-pant fabric a minute or two after she'd jerked him off. It was, he felt, a pretty clear, open and generous offer. But no, she'd straightened herself up, and they'd moved on to look at the possible media fall-out associated with a reduction of RAF personnel on the Ascension Islands from a sabre rattling 17 to a less blood curdling 12.