New Book: The Sounds of Capitalism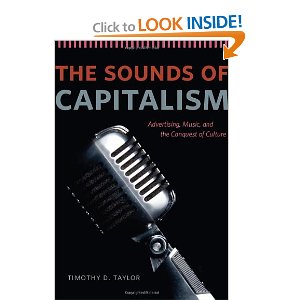 Timothy Taylor is a UCLA musicologist who likes to study the relationship between popular music and our consumerist ways.  Pitchfork interviewed him about his new book, The Sounds of Capitalism.
Pitchfork: When people think about music and advertising, I think the first thing that comes into their mind is the jingle. You spend a lot of time talking about jingles in your book. Can you talk a little bit about what they are, and how they became so popular?
TT: The jingle didn't really catch on until the Depression, even though it had been used before in local and regional markets, because the radio advertising industry sort of lost its reluctance to do hard sell pitches– in order to sell anything you had to adopt harder selling tactics then. So the jingle comes into its own in the late 1930s, and a lot of them, even if they weren't written to sell goods to children, were written in a nursery rhyme-ish way, and I think that's one of the reasons why they stick in people's minds. And they often were designed to convey information about a product, so the famous Chiquita Banana jingle, which was first broadcast in 1944, told people not to put bananas in the refrigerator. 
Pitchfork: The thing about the Chiquita Banana jingle that fascinated me was the research that the advertising agency did into audiences' message retention.
TT: Yeah, the retention was unbelievable. It helps that they're short, and many of them are written by really, really good musicians. But people memorized lyrics to these jingles like they memorized lyrics to their favorite popular songs, and they took in information from these lyrics. I don't know if that's still true; with Tivo and everything else, people don't pay as much attention to commercials as they used to, but back in the day when there were only a couple of different national radio broadcasters, you could make a jingle like that became pretty much ubiquitous.
Must buy this.  Keep reading.