New Commercial Indie Rock FM Station Coming to Toronto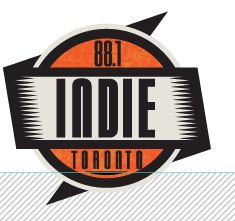 First, full disclosure: I was part of one of the other 21 groups applying for a license on 88.1 Mhz in Toronto–and one of the groups who were unsuccessful. I just want to get that out of the way.
For the first time in a billion years, Toronto is going to get a new rock station. The people who own Rock 95 in Barrie, Ontario, were granted the license that was taken away from CKLN for non-compliance. From the looks of their trial website, 88.1 Indie Toronto could be an interesting venture as they go after adults in the 18-49 age group.
From the CRTC's annoucement;
In the Commission's view, Rock 95's innovative proposal for an eclectic, Indie music format FM station focusing on emerging, independent artists from Canada and targeting a core audience of adults between the ages of 18 and 34 will add to the musical diversity of the market. Further, as a new entrant into the market, Rock 95 will enhance the diversity of news voices, while benefitting from synergies with its two stations in Barrie, CFJB-FM and CKMB-FM.
First, the format. The owners promise station with heavy emphasis on new and emerging talent. The CanCon level will be 40% (higher than the required 35%) and have promised "emerging Canadian artists per broadcast week" of 60%. That's plenty more new (or, as some critics will point out, unfamiliar) music than offered by another other commercial station in the city.
Talk? Quite a bit when compared to other Toronto stations: 10 minues and 48 minutes. Of that, 2 hours and 50 minutes will be devoted to news.
Power? That's a handicap. The new station will operated with a transmitter running at 532 watts (no, that's not a typo) with a maximum radiated power of 875 watts (again, not a typo). For example, CHFI runs at 44,000, CHUM-FM at 40,000 and the Edge at 35,000. The station is going to be hard to get outside the borders of Toronto proper.
Benefits? Just over $2 million over the term of the 7-year license. The Indie Awards, the Polaris Music PRize, Indie Music Week and North by Northeast are all very happy today. They also plan a "Performer of the week" initiative on the station's website that will cost $509,000.
Coolness/Hipster factor? Potentially very high. Indie Toronto might have a chance to be to the city what the old CFNY was back in the late 70s and early 80s. Its transmitter signal was hideous but that didn't stop people from discovering the station and evangelizing about it. (See Rush's "Spirit of Radio," which was written about the old CFNY.)
Staff? See above. The line to work at the station has already formed. It'll be interesting to see what kind of budget they have for talent.
Financials? It'll be a struggle at first, but that's normal for any new business. A big part of their success will depend on what they do online. They'll also need to do a ton of advertising just to let everyone know they exist. Then again, if they can tap into the rabid passions of the indie community, they might strike gold with priceless word of mouth.
Competition? The most obvious competitor will be The Edge. CBC Radio 2 might be impacted somewhat, too.
Sign-on date? TBA. There are studios to be built and a staff to be assembled. I'd expect that take up to eight months. Maybe more.
My take? An interesting decision by the CRTC–and that's coming from someone who was at the hearings back in May and heard the arguments offered by all 22 applicants. By giving the license to Indie, the Commission looks very good by offering a newcomer a space on the crowded Toronto dial. The Toronto indie scene has been getting bigger and bigger over the last decade and certainly deserves additional exposure. A radio station home for this music is good for the community. I wish them all the luck in the world.
Is there a "but?" Not really–but the radio drama in the city isn't over yet. BCE has made it known that they will sell Boom 97-3 and The Flow when the Astral purchase goes through. Given that Rogers, Corus, and Evanov already own the regulatory maximum of FM stations in the market, we're looking at least one new radio player in Toronto. Or maybe two.
Which companies have pockets deep enough to buy one or both of these established, profitable radio stations? I can think of just two or three. Who will that be? Place your bets.
And don't be fooled by those "Say No to Bell" ads. The sale will go through but with a whack of additional conditions.