New Dashboard Developments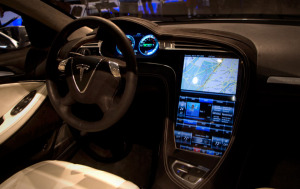 The leaps in auto infotainment technology just keep on coming. Within a few years, standard equipment will make today's AM/FM/CD/Aux units look like that old mechanical push-button mono AM radio that my mom had in her '73 Pinto.
While the hardware side of things is exciting, it's software development that's moving at light speed.
TuneIn, an Internet radio/streaming app, just announced a deal that makes their service available to owners of the Tesla Model S, that cool premium electric saloon. Drivers will have access to 70,000 radio stations without having to plug in their smart phone first. (Imagine deciding on the pre-sets!)
Then there's Livio, a company that's working wtih a non-profit industry alliance called Genivi which is seeking to establish some kind of software standards for the next generation of infotainment systems. If there are standards that everyone can work with, just imagine how quickly innovation will speed up.
I ask again: Is traditional radio ready for the competition?