New English Beat Box Set: The Complete Beat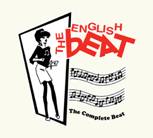 The entire catalogue of the English Beat is being released, starting with their first-ever box set.
Inside are expaned versions of all three albums plus a nifty two-CD collection of rarities, B-sides, 12-inch singles (I've been looking for an extended version of "Save It for Later" for a long time!), Peel Sessions and even a Boston gig from 1982.
Dave Wakeling keeps the Beat flag flying, too. Watch for him and the current edition of the band to promote this box throughout the summer.
Highly recommended for any ska fans. In fact, it's probably bloody essential.