New Music App from SXSWi That Examines Your MP3 Collection for Signs of Satan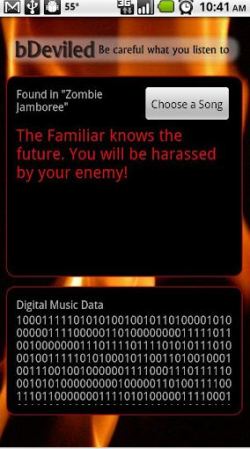 SXSWi, the tech conference that precedes all the music in Austin, Texas, has become the place to unveil new apps and start-ups. Evolver.fm has a summary of some of the best music-related apps here.
My favourite so far? bDeviled, an app created by someone calling himself Brother Mark (Click the link. Seriously.) that's apparently guaranteed to find all the satanic messages in your MP3 collection. You'd be surprised at what evil lurks within.
For example, a scan of "A Whole new World" form the Disney Princess Collection revealed this hidden message: "Gladly do I fornicate with the haunted wicked one's power." Who knew.
Sadly for iOS users, it's only available for Android so far. Is it possible that the iTunes store rejected it? Could it be that they're in league with…Satan?