New Music (!!!) from the Weird World of The Shaggs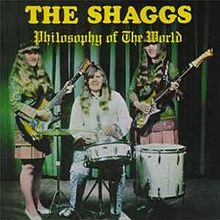 Caught in traffic the other day, I ended up behind a car with the license plate FOOTFOOT. This immediately made me thing of "My Pal Foot Foot," a track from what is widely knowledged to be the worst album ever created: Philosophy of the World by The Shaggs from 1969.
The Shaggs were three sisters: Dot, Better and Helen Wiggin from Fremont, New Hampshire. Encouraged by their (overly optimistic and/or highly delusional father), the Shaggs made an attempt to become rock'n'roll superstars. They failed.
In fact, not only did they fail, but they did it better than anyone else in the history of rock.
As you're listening to "My Pal Foot Foot"–a story about a cat–keep in mind that the Shaggs thought they were going about some deadly serious business. This is NOT a joke or a parody. And this was the single.
The Shaggs broke up in 1975 after their svengali father and Heln Wiggin both died. There was a reunion in 1999 and a series of reissues for Philosophy of the World, but that was it for the Shaggs. Until now.
Dot Wiggin has reimerged with a solo album, 44 years later. Ready!Get!Go! will be out October 29 on the Dead Kennedys' Alternative Tentacles label. Apparently we'll be treated to never-recorded Shaggs songs plus brand new material.
Head over to Pitchfork for the full tracklisting. Meanwhile, have a listen to the Dot Wiggin Band perform one of these new tracks live. She's been practicing. Thank God.