New Nine Inch Nails Coming Next Friday
True to his word–Trent had hinted that new Nine Inch Nails music was coming before the end of the year–a new EP entitled Not the Actual Events will be released next Friday (December 23). This will be the first NIN material since Hesitation Marks in 2013.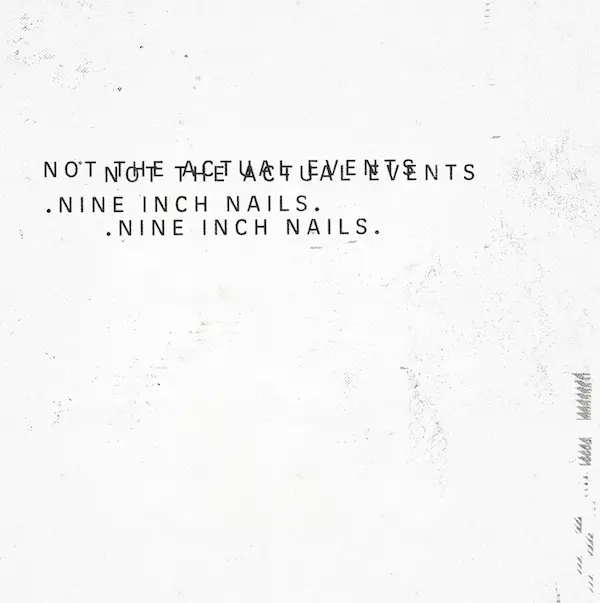 Whatever it sounds like, it'll be nothing like Trent's recent soundtrack work with collaborator Atticus Ross. A press release says "It's an unfriendly, fairly impenetrable record that we needed to make. It's an EP because that ended up being the proper length to tell that story."
The EP will be available digitally (naturally), as one-sided vinyl (neat) and as a "physical component" (Trent doesn't explain what that means).  Here's the tracklisting:
Not the Actual Events
1. "Branches/Bones"
2. "Dear World,"
3. "She's Gone Away"
4. "The Idea of You"
5. "Burning Bright (Field on Fire)"
And there's more.
A reissue of The Fragile, the band's 1999 album, is also coming. To be known as The Fragile: Deviations 1, the collection will be available only on vinyl (4 x 12′" LPs) and will come with 37 (!!!) bonus tracks. And once that's out of the way, there will be vinyl reissues of The Downward Spiral and Broken. Trent had this to say:
"We want to present the catalog as it was intended to be, with no compromises. That means a careful remastering of the audio from the original sources, a painstaking recreation of the artwork, pristine materials, some surprises and an insane attention to detail that you probably won't notice…but it matters to us. No extra bullshit and gimmicks – the 'real' records in their truest form."