New Oral History on Led Zeppelin Coming in November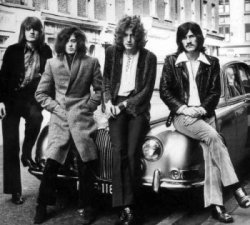 The definitive history of Led Zeppelin is Steven Davis' 1985 book, Hammer of the Gods, which is now in its eleventy-ninth reprint.  It's been able to take on all challengers when it comes to documenting the band's rise into rock legend.
Now a new pretender has appeared on the horizon.  Led Zeppelin:  The Oral History of the World's Greatest Band will appear in stores November 6.  Written by Barney Hoskyns, a contributing editor for the British edition of Vogue (WTF?), the 576 page hardcover is based on more than 200 interviews–including, of course, Robert Plant, Jimmy Page, John Paul Jones, road manager and fixer Richard Cole and even their late manager, Peter Grant.
If the Vogue things throws you, don't let it bother you because Hoskyns does has experience with rock as well as frocks.  He's co-founder of the site Rock's Backpages and wrote a book called Hotel California which is about the west coast country-rock sound of the 70s.
Read more about the new book at Blabbermouth.