New Releases This Week: 21 February 2012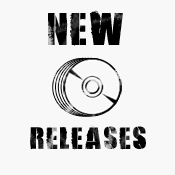 Now that the Grammys are done and that the Brits are on today, the only major music awards show left we care about is the Junos on April 1.  This means that we can finally get on with the business of the music of 2012 instead of trying to wring a little more blood out of what came out in 2011.  Adele and Whitney notwithstanding, of course.
Here's what's new in the stores and online today.
Courage My Love/For Now EP:  Cute-as-a-button power pop from teen twin sisters and their dude friend, all from London, Ontario.
Cursive/I Am Gemini:  I've had an advance of this record for a while.  I've enjoyed it.
Dirty Ghosts/Metal Moon:  An album that has already made the Recommended Music list on this site.
Field Music/Plumb:  English band with connections to the Futureheads and Maximo Park.
The Front Bottoms/The Front Bottoms:  Best band name of the week.  Gonzo punk rock with the occasional dance groove.
Galactic/Carnivale Electronicos:  The only band I ever discovered through Ping.  Great New Orleans band–and just in time for Carnival, too.
Fun. /Some Nights: Just don't forget the period in their name.  It's important to them.
Lambchop/Mr. M:  Alt-country from Nashville.  Still doing their thing 25 years into their career.
Sinead O'Connor/How About I Be Me (And You Be You)?:  Yeah, she's a little nuts, but if you remember her first album, The Lion and the Cobra, you  might find a lot to like here.
Sleigh Bells/Reign of Terror:  I'm very excited about this one.  Blissful noise-pop.
If you need more, check out the Tuesday Guide.  I do.