New Releases This Week: 28 February 2012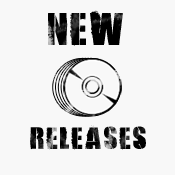 Isn't February over yet? I know that for most people in North America that this hasn't been much of a winter, but still. And you're telling me that tomorrow will still be February, too? Jeezus.
At leat there are some new releases to keep us occupied until things start turning green. And spring can't be far off because the bull terrier has cabin fever. Time for another day of doggie daycare, methinks.
Corrosion of Conformity/Corrosion of Conformity: First album as a trio in ten years. Welcome back.
Cranberries/Roses: The first album in eleven years. Original line-up, signature Cranberries sound.
Fanfarlo/All of Me: Indie pop from the UK. Headed this way for Canadian Music Week.
Mona/Mona: Highly touted rock from Nashville. Already well-regarded in the UK.
Plants and Animals/The End of the That: I've been living with this Montreal band's third album for a bit. I like it.
Primal Rock Rebellion/Awoken Broken: Iron Maiden's Adrian Smith is involved? Okay. I'm listening…
School of Seven Bells/Ghostory: Dude from the late lamented Secret Machines with a set of hot twin sisters. How could any of that be bad?
Need more? Check out The Tuesday Guide for all of today's new releases.