New Smashing Pumpkins Album Sprouting in Fall
After spending the summer of 2018 reaffirming their legacy as one of alternative rock's most influential bands, The Smashing Pumpkins have announced new album Shiny and Oh So Bright, Vol. 1 / LP: No. Past. No Future. No Sun..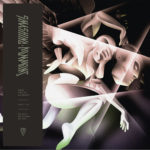 Billy Corgan seems to be living his best vampire life with this mouthful of a title, the first release featuring original members James Iha and Jimmy Chamberlin since the Machina double-shot of 2000 prior to them breaking up for the first time.
Rick Rubin acted as producer, but don't tell Mr. Corgan this is a career resurrection à la Johnny Cash. The just-completed tour of the (sorta) same name was praised by fans and music critics alike for its depth and breadth of the Pumpkins' 30-year catalogue. It also apparently sold 300,000 tickets over 40+ dates, which included a visually memorable stop at Toronto's Scotiabank Arena. Earlier single "Solara" and newest cut "Silvery Sometimes (Ghosts)" proves they're not done planting awesomeness and soaring to even greater angelic heights just yet.
Pumpkinheads will want to circle November 16th on their calendars. Or punch it into their phones as a reminder that's when they'll be able to stream all eight tracks from Billy's own Martha's Music label (under an exclusive license to Napalm Records). As a special way to bridge the digital and physical mediums, the Pumpkins have teamed with Spotify to offer eager harvesters an extremely limited, clear vinyl version of the new album I may just get on myself!
For all other bundle options, visit SmashingPumpkins.com.