New "Song" by (Not From) Planet Earth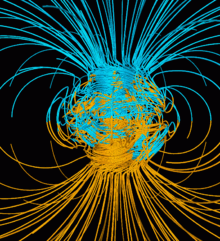 WikipediaMy nerdy streak orbits through the world of astronomy and cosmology, so this sort of thing really appeals to me.
Boffins supervising the Radiation Belt Storm Probes' Electric and Magnetic Field Instrument Suite have recorded what they call "chorus." Using instruments that monitor the Earth's magnetic field, they were able to capture audio radio waves emitted by the magnetosphere.
The "chorus" principle has been known for decades. All planets with a magnetic field have them. It's just that this recording is rather, well, tuneful.
Listen to how Earth "sang" on September 5, 2012 here.