A New Song That Can Only Be Unlocked by Headbanging
Usually, when a band releases a new song, it's just a matter of clicking on a link to listen. Not so with Japan's Crossfaith. Wanna listen to their new song "Diavolos?" Then you gotta headbang for it.
Crossfaith's label created "Make It Metal: A Headbanging Activated a Musical Experience" to hype release of the new EP entitled Freedom. Fans who want to unlock the first single must go to a computer with a webcam and sign into a special site. Once you get started, you have to headbang in front of the computer in order to hear the song. If you stop with the head, the song stops playing.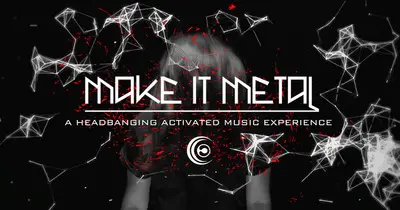 Ad agency Ogilvy & Mather are behind the project. From CampaignBrief:
"Traditional ways of promoting music albums just aren't as effective anymore as it was in the past. In its place is a new era in which musicians blend art, advertising and technology in smart and exciting ways. That is why we created this unprecedented piece to help launch and propel the band's new music." said Ajab Samrai, chief creative officer of Ogilvy & Mather Japan (pictured right).
In addition to fans earning the exclusive rights to sample the new song, they are rewarded along the way with a long sequence of tantalizing visual effects that showcases the contemporary artwork of the album cover that morphs into a metal aesthetic that the community are more accustomed to as the song proceeds towards a crescendo.
Upon the completion of the song – by utilizing the site's deep learning API, capturing the varied prowess of the headbanging movement – fans are further rewarded with an artwork generated from the image-tracking algorithm and depending on how well they had done to successfully make it metal as the bragging rights.
Interested? Give it a shot. Two things, though: (1) You might not want to do this at the office or in a public place; and (2) Don't hurt yourself.