New Statue of Kurt Cobain Unveiled in His Hometown. And It's Crying.
This past February 20th would have been Kurt's 47th birthday.  After years of not wanting to be associated with him because of his druggy predilections and dramatic check-out from this world, his hometown, Aberdeen, Washington, has finally begun to embrace its most famous citizen.
To commemorate the first-ever Kurt Cobain day in Aberdeen, a statue was unveiled in the town's museum.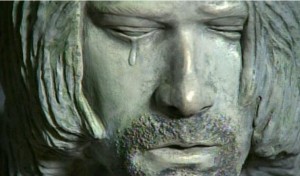 If this thing ever starts crying blood like some mystical Madonna statue, we're in big trouble.
(All via Consequence of Sound)