New Tool Records! New Tool Records! New–Oh, Wait…
Yes, Tool's just-wrapped tour was highly successful, but fans can't help pointing out that it's been 11 years, 3 months and 11 days since they released an album. Put another way, 10,000 Days was released more than a year before the first iPhone went on sale. Stephen Harper had just been elected our prime minister for the first time. George W. Bush was still in power.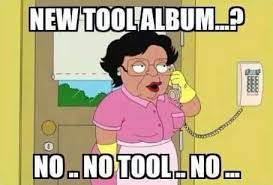 Tool says that they're making progress but that there will definitely not be a new record this year. Until then, though, they're trying to pacify us by releasing remasters of all of their albums for re-release on vinyl.
That's great, but when? Drummer Danny Carey told a redditor that "We are already in the process of remastering all of our albums for release on vinyl in the near future."
Um, okay. But define "near future." This is Tool, remember. Still, it's something, right? Right?