New York Considers Fines, Jail Time for Using Bots
The New York State Assembly voted last week to make the use of ticket-buying bots a criminal offense.
It's illegal to use bots to buy large quantities of tickets, according to current laws, but the new standards approved by half of the state's lawmakers would make it a criminal offense, according to several reports.
"Under the new proposal, civil penalties would be increased and expanded to include any individuals who knowingly resell or offer to resell tickets that were purchased with ticket bot software," Hypebot.com reports. "The measure would also classify the use or control of ticket purchasing software and the reselling of such tickets a class A misdemeanor, which could result in imprisonment and fines."
"This kind of ticket scalping has had a very negative impact on fans that want to enjoy sporting and entertainment events," said State Assembly Speaker Carl Heastie. "Ticket scalpers often buy up as many tickets as possible with this illegal software and then resell tickets at prices that many New Yorkers simply cannot afford. This measure aims to discourage the tactic by criminalizing this offense."
In January, New York State Attorney General, Eric Schneiderman, released a report on bots, suggesting current laws meant to make it difficult to use of bots were simply not effective and resulted in some concerts by major artists, including U2 and Katy Perry, selling out within seconds of going on sale. In April, his office announced fines totaling $2.7 million were levied against five companies due to "unscrupulous" practices.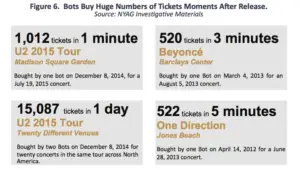 The full text of the bill is not yet available.
Frustrations about the use of mechanized ticket stealing algorithms (editorializing, sorry–still mad about the impossibility of scoring Tragically Hip tickets) are coming from stars as well as fans these days.
In addition to the op-ed in the New York Times by Hamilton creator and Tony winner Lin-Manuel Miranda, the creator of a web-based security company is speaking out.
"Ticket bots have seen explosive growth in usage and sophistication due to the lucrative nature of the scalping business," says Omri Iluz, co-founder and CEO of PerimeterX, a company that works with websites to shore up defenses against illegal bots. "Recent findings of research into behavioral fingerprinting of human interaction with websites can change the balance and allow ticket sellers to have a new edge over the scalpers. It's time for the industry to augment the legislative efforts by investing in technology and research, finding new and innovative ways to identify good human behavior vs malicious bot behavior."