Newport Folk Festival Still Rocking the (Ticket Selling) Boat
The Newport Folk Festival is legendary. Not only is the place where Bob Dylan plugged in and went electric, it's the longest running festival in the United States, attended annually by some 30,000-plus fans.
It's also a festival where, in recent years, the event is sold out before the audience knows who will be taking the stage for three days in July.
But a few years ago, the organizers realized attendees were arriving with counterfeit or otherwise fraudulent tickets.
Deb Girard remembers the moment, four years ago, very clearly.
"We had not experienced that before," she says of the sold-out event followed by fake tickets coming through the gates. "Seeing people come to the windows with tickets that were fraud, people spending a lot of money and seeing them in tears in my window, it broke my heart. It broke all of our hearts."
Newport isn't the type of festival that tries to be the biggest, the flashiest, the most exclusive, heralding the hottest names in music. It's a family-oriented event where people get to know each other from years of going to the festival together, where fans kick back on blankets, folding chairs or on boats in the nearby harbour to enjoy the music.
A little research that year showed tickets available on the secondary market for four-times face value.
"We knew we had to do something," Girard says.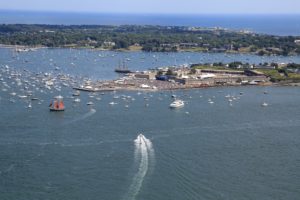 Newport Folk Festival, whose producer, Jay Sweet, has been running the show since 2009, turned to technology, working with Eventbrite and Lyte ticketing services to create a system to cut down on scalping, price gauging and ensuring tickets are in the hands of fans who really want to be there.
"Technology has been on our side, year to year. We're starting to layer it on," Girard says.
There are some simple techniques in place in addition to technology-savvy ones. For example, tickets go on sale in November, despite the festival not takin place until July, but instead of receiving a "print-at-home" e-ticket immediately, attendees don't get their barcodes until about a week to 10 days before the event.  There's also a strict limit of six tickets per household for the event.
But then things get high-tech and sophisticated.
Eventbrite has its roots in preventing, identifying and addressing fraud, as its founder got his start with PayPal. It's also a massive ticketing operation, with 50 million active ticket buyers and more than 2 million ticket transactions processed every week.
"We have that scale," which allows them to develop techniques and procedures designed to not only prevent fraudulent transactions from occurring but to notice activities that could indicate the use of a bot or other methods used to scam the ticket-buying process.
"We think about, in general, striking a balance between solving scalping problems while maintaining a focus on purchase experience," explains Biasha Mitchell, head of music business strategy and solutions at Eventbrite. The vast majority of people signing on to buy tickets, whether to something like the Newport festival or a smaller show in their hometown, aren't looking to flip tickets and make a massive profit; they're fans excited to see a band or a performance.
The ticketing process "shouldn't make that attendee jump through a lot of hoops to buy tickets."
There's a three-tier approach to ensuring tickets are going to people who want them, she explains.
Using an "algorithmic approach" to monitor sales, the tech team at Eventbrite looks for transactions that try to violate the six-tickets-per-household rule. First, they watch sales in real time, detecting scalpers trying to buy more than their allotted tickets and voiding those transactions before they're completed.
Secondly, there's a review of purchases after they've been finalized, because sometimes scalpers or other bad actors do get through. "Post-purchase but before tickets sell out, but within a few minutes of purchase, we're able to do some additional review of an order in real time. With Newport's permission, we refund orders and kick (those tickets) back into inventory. From a consumer perspective, we stop scalpers or bots before they have a chance to get tickets. The tickets might be on sale a little longer because we were doing that."
Mitchell credits the festival's staff for explaining this to fans before the tickets went on sale, encouraging them to sit tight and be patient, not giving up if tickets appear to sell out right away.
But that's not the final step. Once all tickets are sold, Eventbrite continues to scrub sales information and conduct a "paper scrape" in the days or weeks that follow to "weed out potential scalpers. Some folks cover their tracks really well. It's important for us to do that (later review)," she says.  Because of the massive amount of transactions Eventbrite handles each week, they have technology in place that allows them to "triangulate those in violation of ticket rules in a really sophisticated way," including reviewing IP and billing addresses to find offenders.
In fact, "we were able to stop 10% of tickets going to professional resellers and getting them into the hands of legitimate buyers" with the third scrape, Mitchell says.
"To have something happen like that in real-time, as the on-sale is going on, it was really incredible," Girard says. "We were able to keep turning over those tickets as they were going along. It was very exciting. It was a fun moment. You knew what was happening, getting (tickets) into the right people's hands."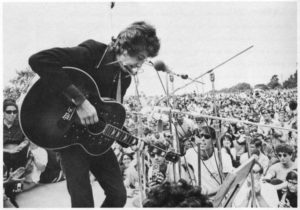 But with a show scheduled and tickets purchased six months or more before the event, it's possible not all those who secured tickets will be able to attend. Without a paper ticket or barcode to transfer to someone else, while trying to keep it off the secondary market, how does Newport handle those would-be concertgoers who can't join in on the fun?
Enter Lyte, a reseller platform that's about as far from StubHub as possible.
Ant Taylor, Lyte's founder and CEO, has set himself the lofty goal of eliminating the secondary market as it currently operates. His inspiration came from seeing an 8,000-seat beach volleyball stadium in the heart of London largely empty during the 2012 Olympics. When he came back from that trip, he was angry, which "makes you do stupid things like start a company."
He was aware with problems in ticketing—for starters, there's a 90% duplication rate across ticket resale sites, meaning a ticket posted on StubHub is likely also for sale on Craigslist, VividSeats, SeatGeek, TicketsNow and others. "People who acquire inventory, hold it back and set price listings very high sell off a few tickets, make whatever margin they want to make and then who gives a shit. The problem starts there."
Lyte is different on a fundamental level. Their work for the Newport Folk Festival, for example, lets people who can no longer use their tickets resell them, for face value, in a three-click process. That's it.
"When Newport sells out of a tier, they turn on their exchange, which is powered by us," he says. "It's a platform they license from us to provide to their fans. Fans, rather than being redirected to a Craigslist where they have to sift through a bunch of listing or, worse, going to the secondary marketing and being gouged, they can place a credit card reservation with Lyte." Those hopeful fans are then placed in a digital queue where they can monitor, in near real-time, their position, how fast the line is moving. They can also cancel their reservation if needed. Any tickets purchased through the Newport Folk Festival's initial sale can be resold, hassle-free, via Lyte.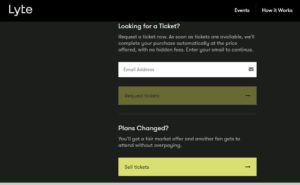 "The reality is, if you're patient and you're in the queue, and you hang tight, the Newport festival will take care of you and make sure you get a ticket through the exchange, and that ticket is 100% verified," Taylor says.
The availability of Newport festival tickets on the secondary market has decreased by 70% as a result of their partnership with Lyte, Taylor says.
Like the festival's partners Eventbrite, Lyte also employs a series of scrubs to ensure the people buying tickets on the exchange are not scalpers, bulk buyers or bots. "We do all sorts of scrubbing to be better than," he says. "We track secondary market activity. We're very good at, down to the IP level, tracking who's on the site and seeing if they're a bad actor. You'll never see us do a press release about this… but you're placing a reservation to buy a ticket. That allows us to constantly check."
Lyte also works with the BottleRock festival in Northern California and handles ticket reselling for Mumford and Sons, Father John Misty, the North American leg of Future's tours and, on the sports side, the University of Arkansas's football program.
This is the first year Newport's worked with both Eventbrite and Lyte and it likely will not be the last.
Girard says the front office at Newport is a small team who really feel like they know the 30,000 fans. "That's how small we are. When they're talking about customer service, that's just me. I'm working with all the fans through email and answering them, it's not a room full of customer service people. You feel like you know them… Demand is greater than inventory and how do you manage that? We really wish we could have everyone here. We're couldn't be more happy between our partnership with Eventbrite and Lyte. It's made it a lot easier to get those tickets into the right people's hands. That's our goal."