NextRadio Expands into Canada. This Means Smartphone FM Chips for Android Users (MORE UPDATEs: Not So Fast, Canada, BUT…)
Virtually every smartphone on the market has a dormant FM chip somewhere inside. So why isn't it activated? Simple: wireless carriers would rather we use data (for which they can charge) instead of listening to radio (which is free). There is, however, a big push to change that–and there's been a development.
NextRadio, the excellent FM chip platform pushed by Emmis and others in the US, quietly became available in the Google Play store on Canada Day. This means that over a million people with FM radio-compatible smartphones can install the app. This is good. From Broadcaster magazine:
The NextRadio app functionality is the same in Canada as it is in the U.S.  Some of the key features consumers love about the app is the ability to:
Listen to radio using significantly less battery or data
Search to find a favorite station
Get emergency updates if cell coverage goes down
Customize home screen "Live Guide" with favorite stations
Rate songs and let stations know if they like it or not
Purchase a song that is playing
"Our initial broadcaster partners in Canada are very excited about the value NextRadio brings to their listeners, as well as, the new radio advertising platform and data NextRadio can provide their advertisers", said Paul Brenner, President, TagStation, LLC, the power behind NextRadio. "This expansion was a natural next step as many handset makers provide the same phones in Canada, making it easier for them to turn on the FM Chip for both countries at the same time."
"With the historically high costs of cell phone and data plans, the FM Chip activation allows Canadians, both urban and rural, access to the content they already listen to. It's essential for market fairness and emergency broadcasting services to have access to radio in the palm of your hand, at any time," saidBarry Rooke, Executive Director NCRA/ANREC.
Apple? Are you listening? Where my iOS version? Read the entire story here.
UPDATE: Well, maybe not. The app is available but when Christopher fired it up, he got this.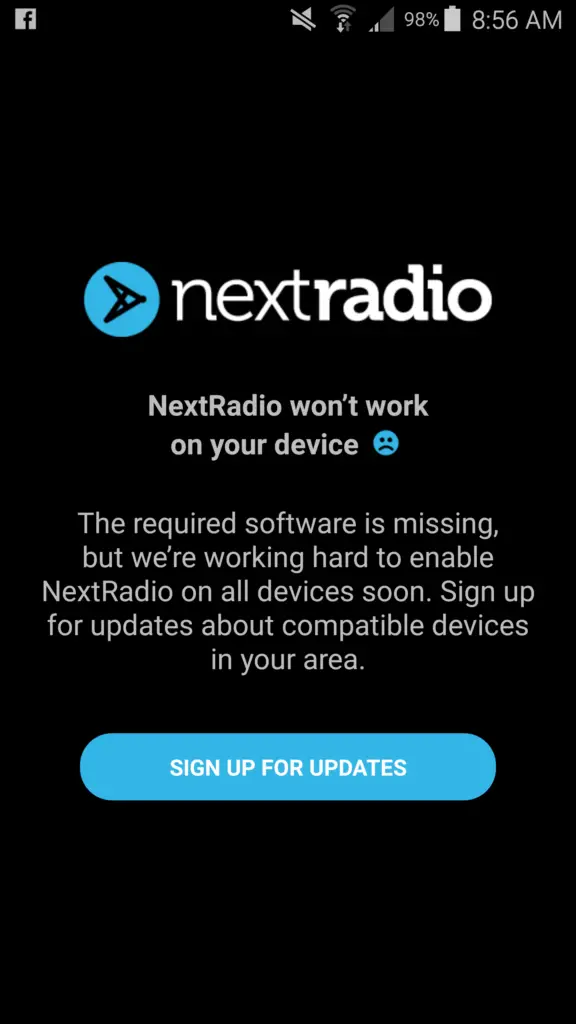 Mike downloaded the software to his Samsung Galaxy Note 4 and got this message: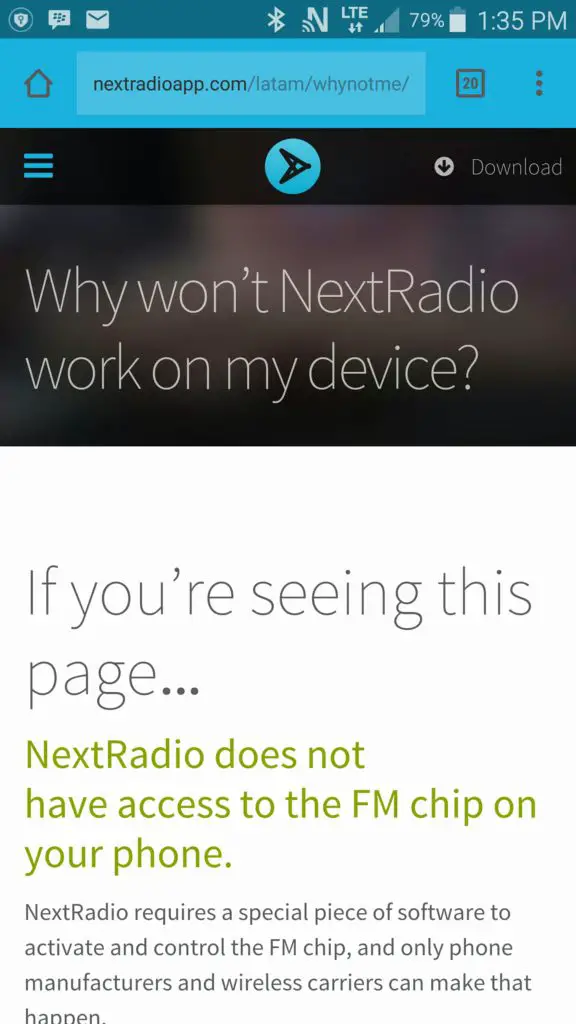 And then Tony said: "Hi Alan – just an update after doing some research. I have an Android phone – Galaxy note 5. The app says my device doesn't support the app, but the nextradio website says it does. Turns out some carriers (I'm with Rogers) won't allow apps to access the FM chip. Looks like the bastards won't let customers like me use a method to reduce my data consumption! Shameful."
Makes you wonder why the app is available when no one can actually use it.  Time to pressure the carriers.
ANOTHER UPDATE: This comes from Michael.
Though with research it does seem that most of the North American models of phones have the FM chips disabled in the programming. However, that being said I have a Motorola Phone (now owned by Lenovo) and these do not have the FM chip disabled. I have tested 3 current models (Moto G 3rd gen, Moto X Play, Moto G4 Plus) and they all have a working FM chip. I have heard that Sony phones also have the FM-enabled although I cannot verify this.
With some research, I have found instances where some more technical minded individuals have been able to activate their chips through either rooting or downloading an APK file that will enable it (this can be risky and brick your phone). Apparently some North American phone models have the FM disabled though in the hardware and can not be activated at all (LG G3).
The story continues.