No, Kid Rock and Ted Nugent aren't playing Donald Trump's second inauguration on August 15.
If you've been following the Big Lie about fraud in the last American presidential election, you'll know that Donald Trump and a few of his insane minions have been telling everyone that the election will be voided and he'll be reinstated as president in August. Forgetting that (a) there was no fraud and Joe Biden was legitimately elected, and (b) there's no constitutional provision for any such "reinstatement," nutty Trumpers and QAnon weirdos are all-in for this theory.
Imagine, then, what those people must have thought when this picture started making the rounds on Facebook, the world's most trusted news source.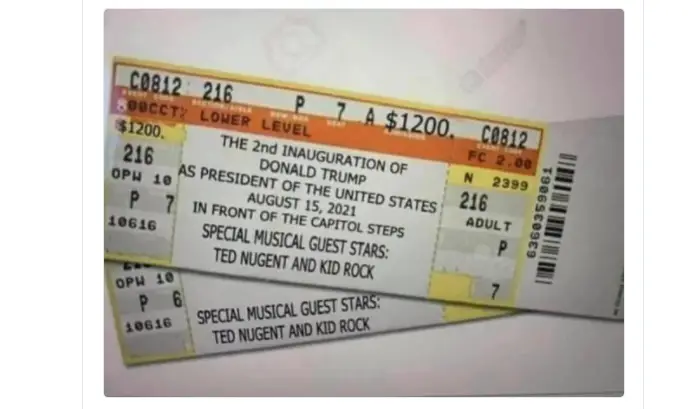 Wow. Where to begin? Fortunately, The Dispatch has debunked everything–not that it'll matter to the diehard Trumpers and QAnon weirdos.
"The tickets have been photoshopped using a common ticket template, an example of which can be found on this printing company's website. The blank event tickets, which can be purchased, match the alleged tickets for Trump's inauguration. The blank ticket template, for example, has the same 'event code' number as the Trump ticket: C0812. The section/aisle and row/box numbers of the Trump ticket match the template ticket as well. Another clue is that the event text font does not match the font of the ticket template, suggesting that 'Trump's inauguration' tickets have been manipulated."
And where, pray tell, would one purchase one of these tickets? Ticketmaster?
Oh, and Kid Rock already has a gig on August 15. But that's just he's WANT you to think, right? And what about Ted? No mention of anything for him on that date. Hmm. Well, that's just proves his participation, right?
'Murica.