Why Is There No Official Soundtrack to Ferris Bueller's Day Off?
This weekend marks the 30th anniversary of the release of Ferris Bueller's Day Off, perhaps the most beloved and most quotable of all of John Hughes' movies. But here's a question: why is there no official soundtrack from the film? Bueller? Bueller?
The short answer is that much to the frustration of the studio and A&M, the label with the rights to the soundtrack, Hughes didn't want to release one.
Although his other films had fantastically successful soundtracks–cf. Pretty in Pink, The Breakfast Club, Some Kind of Wonderful–that arguably did more for the cause of alt-rock than any other soundtracks in history–he didn't see the point with FBDO.  From Salon:
"[Record label] A&M was very angry with me over that; They begged me to put one out," Hughes told Lollipop magazine in a 1999 interview. "But I thought…'would kids want Dankeschoen" and 'Oh Yeah,' on the same record?…I just didn't think anyone would like it."
Instead of a full album of material from the movie, Hughes agreed to release a limited-edition 7-inch single featuring two songs. The first was "Beat City" by Flowerpot Man, which is what we hear when Ferris, Cameron and Sloan first drive the (actually fake) Ferrari GT250 into Chicago for the first time.
The other track was "I'm Afraid" by Blue Room. We hear that one when Cameron falls into the swimming pool.
Hughes had 100,000 copies of these singles pressed up and spent the next two years mailing them out to members of his fan club. Discogs lists the release for anywhere from $37 to $230 USD.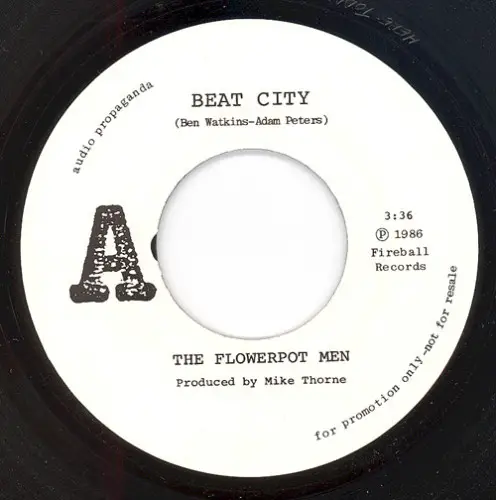 The lack of an official soundtrack hasn't stopped people from compiling their own. In an alternate universe, it would look something like this (via Popdose).
"Fertilize the Lawn"
SONG: Sigue Sigue Sputnik – Love Missile F1-11
"Clammy Hands"
"It's a Little Childish"
"European Socialism"
"When Cameron Was in Egypt Land"
SONG: Hugo Montenegro – Jeannie (Theme From I Dream of Jeannie)
"Call Me Sir"
SONG: Yello – Oh Yeah
"Take It Back?"
SONG: The Flowerpot Men – Beat City
"Carlton Brothers Mortuary"
SONG: Big Audio Dynamite – B.A.D.
"You Speak English?"
John Williams and the London Symphony Orchestra – Star Wars (Main Title)
"We Gotta Do This Again"
SONG: The Dream Academy – Please Please Please Let Me Get What I Want
SONG: Wayne Newton – Danke Schoen
SONG: The Beatles – Twist and Shout
SONG: Zapp – Radio People
SONG: Blue Room – I'm Afraid
SONG: General Public – Taking the Day Off
SONG: The Dream Academy – The Edge of Forever
SONG: The English Beat – March of the Swivelheads
SONG: Yello – Oh Yeah (Dance Mix)