No Pop, Counter Culture and The Great Feedback Loop
I have my passions. I love music. What it can do. What it can mean. What it can change. I am political in nature. I'm sure some of you can understand why I spend a lot of time angry and frustrated these days. I recently wrote a piece about why music today is missing the point and how there is a need for music and musicians to stand up and speak out.
We live in an age where there is no voice. No voice but a whole lot of noise. We've decimated our attention span to the point where we can only read a blog but only if it's less than a page. We can write but spelling and vocabulary are lost arts. We can consume insane volumes of music but we can't get past a single song by a given artist. In times of great change and upheaval I expect my music to bring me some sanity.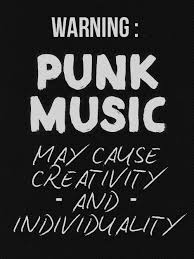 Was there ever a time more ripe to bring on the great second coming of punk? Was there ever a time more important than now to fight our stilted culture and the endless feedback loop of pure sameness and inane repetition? Was there ever a time where rock seemed more lost to our ears?
How do we fight back against the machine?
One blogger who goes by the name Lonely Vagabond started a movement back in 2014 using the term "No Pop", short for Not Popular.
In the digital age, in the age of social media, in an age where the music business model has virtually disappeared, the silos between eras and genres no longer exist. Commercial and non-commercial is the new paradigm. In a brief moment of inspiration I coined a new term, No Pop.
"No Pop (noun) – short for Not Popular. Meaning anti-commercial, non-chart-friendly, also inferring there is no expiration date on music nor is it limited by geographic or regional boundaries"
Badfinger is No Pop as is the Nuggets series. The Zoobombs is No Pop as is Faust. Spacemen 3 is No Pop as is The Association. Triumph is No Pop as is a local band from Portland or New York. Basically it's rooted in the attitude that people should search for the music that moves them, away from the corporate machine and towards artists who haven't lost their capacity to be creative, experimental or boundary-pushing.
The basic idea is to take music away from the corporate powers are make music what it was meant to be. Art. Vision. Of these times and for these times. We need experimentation. We need risk without needing reward. We need art for art's sake. Mostly we need music to reflect our life and times. Music today is formulaic sugar with few exceptions. Life is not just about happy, happy, joy, joy and the pains of a bad breakup.
We have lunatics in positions of power. We have people who haven't had a raise in years while costs skyrocket and their companies pocket record profits on their backs. We have more and more people who work needing food banks to support their families. We have endless wars and mindless fear. We have democracies that no longer reflect democracy. What ISN'T there to be angry about? And why isn't ANYONE writing about it???
Feel free to check out "NO POP" (#NOPOP) as one avenue forward.
Here's a few articles with some thoughts on this if you want to check them out: Huffpost, Aesthetic Magazine, and Medium.
Let's keep pushing for the purity of music and art. Let's make sure the corporation doesn't define what is art and what is real. Mostly, let's never stop wanting, both more and better.