Now That We're Back to Game of Thrones, Let's Do a Roll Call of Musicians Who Have Appeared on the Show
If you saw the premiere of season 7 of Game of Thrones last night, you probably noticed that Arya Stark stopped to eat a little wild game after she slaughtered a couple hundred people at House Frey before the credits even rolled. Hey, you'd expect her to be hungry after something like that, right? On her way to wherever she was going, she stumbled across some Lannister soldiers, one of whom was Ed Sheeran in a cameo.
This begs the question: What other musicians have appeared on the show? Quite a few as it turns out.
Coldplay drummer Will Champion was one of the people wiped out at the Red Wedding.  He's the drummer (natch) in this clip.
Then we have Snow Patrol's Gary Lightbody who played an extra in season three.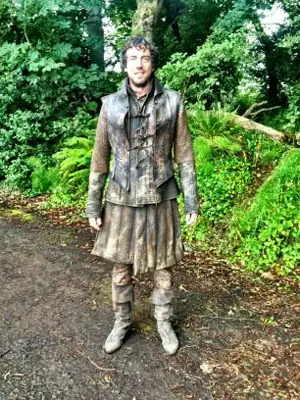 And then we have bands like the Hold Stead performing a drinking song for the show and The National's "The Rains of Castamere."
Hodor was played by Kristian Nairn, who also works as a DJ.
Here's my entire running tally.
Seasons 1-2: Wilko Johnson of Dr. Feelgood was cast as the role of executioner Ser Illyn Payne–the guy who took Ned Stark's head–but that was interrupted when he was diagnosed with cancer.
Seasons 1-3 and 6: Osha the wilding was played by Nathalia Tena of the band Molotov Jukebox.
Seasons 1-6: Ever hear of Robson & Jerome? They had a huge UK hit with their cover of "Unchained Melody" in 1995. Jerome Flynn was the guy behind Bronn the mercenary.
Seasons 2-6: Carice Van Houten–the priestess Melisandre–also has a solo album called See You on the Ice.
Season 3: Will Champion of Coldplay showed up as a member of a court band. He's later wiped out in in the Red Wedding.
Seasons 3-6: Iwan Rheon–the ultra-awful Ramsay Bolton–is mostly an actor, but he released a debut album called Dinard, too. There was also that time as a teenager he spent as a member of a group called the Convictions.
Seasons 3-6: The Grey Worm, played by Jacob Anderson, also operates as an indie R&B musician named Raleigh Ritchie.
Season 4: Sigur Ros provided some music for a wedding in the episode "The Lion and the Rose"
Season 4: Gary Lightbody of Snow Patrol showed up as a nomadic musician in "Walk of Punishment."
Seasons 4-5: Joey Fry of Animal Circus played the recurring role of Hizdahr zo Loraq and briefly betrothed of Daenerys Targaryen.
Seasons 4-6: Few people outside of The Netherlands knew about the band Fontane until frontman Michael Huisman assumed the role of sellsword Daario Naharis.
Season 5: Mastodon. All of them in the episode "Hardhome." They play some north-of-the-Wall scary people.
Season 6: Was that Of Monsters and Men playing traveling musicians in the episode when we learned the truth behind Hodor's name? Yep.
Season 7: That muppet Ed Sheeran.