Now, From the Guinness Book of World Records…
Last week, we heard that Metallica made the Guinness Book of World Records for being the only band to play concerts on all seven continents. Here are several more new music-related records.
1. Eminem has set the record for the most words in one song. "Rap God" features 1,560 words in 6:04.  That works out to 4.28 words per second with one burst of 97 words in 15 seconds (6.467 words/sec)
2.  At 33 feet in diameter, this is the world's largest disco ball.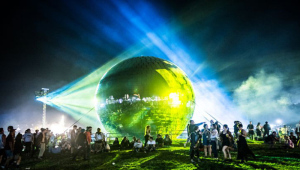 3.  And One Direction are the first UK band to debut three straight albums at #1 on the US charts.