Now This is F**ked Up: #CutforBieber Catches On
So Justin Bieber was caught with a spliff in his hand and had a picture posted online. Hey, live by the Internet, die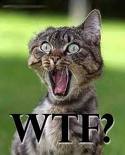 by the Internet. Bieber's people are now trying to deal with the fallout and scrambling to repair the damage to their boy's squeaky clean image.
Here's where it gets weird. Someone started a Twitter campaign to convince Biebster to give up the ganga using the hashtag #cutforbieber and #cuttingforbieber. The idea was to perform various acts of self-harm and then post the pictures on Twitter. The threat is that the cutting will continue until Bieber swears off the blunt.
It was a joke, people. A very sick joke, but a hoax nonetheless.
But some Bieber fans belieb everything they read online. Apparently, some of these humourless, impressionable literalists have been doing just what the campaign suggested. There have been a flood of disturbing pictures over the last day or so.
If you absolutely need to see some of these shots, figure it out for yourself.
(Via Gossip Cop)