Nude Protest Against Music Streaming Services Fizzles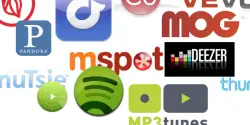 Yes, there are still plenty of issues to be worked out between streaming music services and performers and rights holder. And yes, these issues should be discussed in an open and transparent way. But perhaps not this open and transparent.
Gareth Jackson–who admits not knowing much about the issues involved–attempted to organize a naked protest against streaming music services in the Melbourne suburb of Coberg the other day. Despite a big social media push, no one turned up–that is, except Jackson. Police told him to cover up and sent him on his way.
When asked by SPA Confidential about what inspired him, he said "Don't get me wrong, I love me bloody music but I don't have a clue how bands get paid. I just get CDs from my mates at work – Powderfinger, Pearl Jam, John Butler – chuck them in my car and then it's happy days."
Another motivation for the protest? "Seeing tits," he said.