NXNE Announces Full Line-up for Port Lands
NXNE has unveiled their full lineup for the Port Lands Festival on June 23-25 in Toronto. Newly announced highlights include Tinie Tempah, Amir Obè, Yukon Blonde, Lizzo, River Tiber, and Franklin Electric. Weekend and day passes are available on the NXNE website.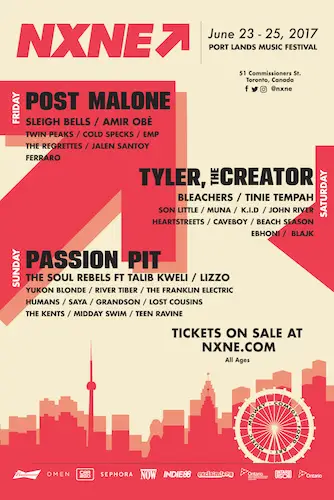 In addition to musical performances, festival-goers also will be able to experience a comedy tent, sponsor activations, midway carnival rides and games, art installations, and comfortable retreats for in between sets. Expect more announcements as we approach closer to the festival.
Here's the full line-up by day:
FRIDAY
Post Malone
Sleigh Bells
Amir Obè
Twin Peaks
Cold Specks
EMP
The Regrettes
Jalen Santoy
Ferraro
SATURDAY
Tyler, the Creator
Bleachers
Tinie Tempah
Son Little
MUNA
K.I.D
John River
Heartstreets
Caveboy
Beach Season
Ebhoni
Blajk
SUNDAY
Passion Pit
The Soul Rebels Ft. Talib Kweli
Lizzo
Yukon Blonde
River Tiber
The Franklin Electric
Humans
Saya
Grandson
Lost Cousins
The Kents
Midday Swim
Teen Ravine