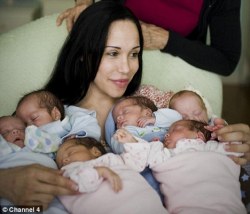 In what promises to be another glorious train wreck, Nadya Suleman, better known as the Octomom and mother of 14, is launching another career attempt.  Having already tried being a tabloid star, reality TV freak, horror movie actress and porn star, she's now intent on becoming a singer.
Global Groove Entertainment–no, I've never heard of them, either–has signed her to record a dance song called "Get on the Dance Floor."  How…original.
The song features Octomom singing and rapping.  Production is by DJ Mr. Mig and Mike Rizzo, two guys familiary to fans of Taylor Swift, Britney Spears and Usher.
The song isn't out yet, but it's coming August 31.  Run.