It's Official Now: Tom Petty Dead at Age 66
Full statement: pic.twitter.com/FGCVI5yIaa

— Tom Petty (@tompetty) October 3, 2017

Tom Petty has passed away.
After much media confusion that began when someone confused "unresponsive" for "dead," Tom Petty eventually did die after being taken off life support following what appears to have been a massive heart attack at his home in Malibu on Sunday morning.
EMS was called to the house at 10:52 am to find him not breathing and in full cardiac arrest. They were able to get a pulse back and rushed him to ULCA Medical Centre. He was placed on life support for most of the day and into Monday, but when it became obvious that the damage to his heart and brain was too great, the family agreed to let him go, issuing a do-not-resuscitate order.
Tom held on for most of Monday before passing away at 8:40 pm. His longtime manager, Tony Dimitriades, issued this statement: "On behalf of the Tom Petty family, we are devastated to announce the death of our father, husband, brother, leader and friend Tom Petty. He died peacefully surrounded by his family, his bandmates and friends."
Tributes that began on Monday afternoon with the premature announcement of his death continued through Monday night and Tuesday morning. My LA friend Pamela sent me this picture of Petty's star on Hollywood Boulevard.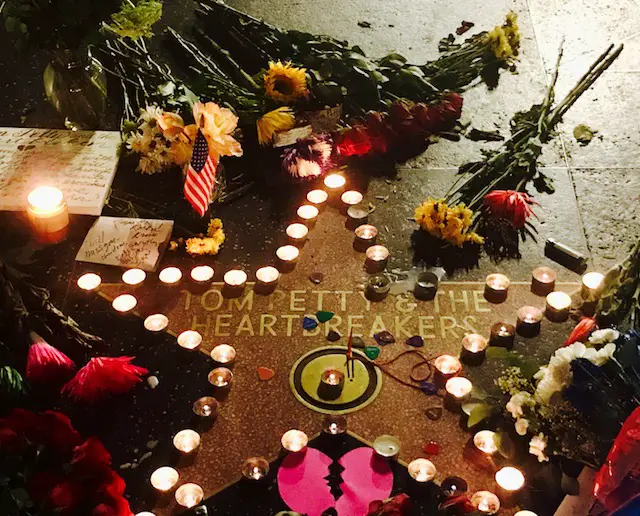 Petty began his rise in 1978 as the frontman for Tom Petty and the Heartbreakers. Despite all kinds of problems with record labels and bankruptcy, Petty soldiered on, becoming one of the most important American artists of the 80s and 90s. He was inducted into the Rock and Roll Hall of Fame in 2002. And let's not forget the Travelling Wilburys, which also featured George Harrison, Roy Orbison and Jeff Lynne.
Although he was from Florida, Petty was renowned as one of the great American heartland rockers with a string of hit singles and albums stretching back to the late 1970s.
Born on October 20, 1950, he was just old enough to have experienced the first years of rock'n'roll with Elvis, Little Richard and Jerry Lee Lewis. When the Beatles appeared on Ed Sullivan in February 1964, a 13-year-old Petty decided he was going to be a musician. One of his first guitar teachers was future Eagle Don Felder, also a native of Gainesville.
His first band was Mudcrutch, which came together in Gainesville in 1970. They recorded one album before breaking up in 1975. Then came the Heartbreakers, created with Mike Campbell and Benmont Tench (two members of Mudcrutch) along with Stan Lynch and Ron Blair. Their first album–a self-titled affair–came out in '76 and was followed by You're Gonna Git It! in '78.
With their stripped-down sound that made them stand out from the "corporate rock" bands of the day (think Boston, Kansas and Foreigner), the Heartbreakers were initially marketed as a slightly punky American New Wave band, something that failed miserably. Further record company woes left Petty in bad financial straights–bankrupt, in fact–which made his recovery in the 80s all the more remarkable.
When his original label, ABC Records, was sold to MCA in 1979, he refused to go along with the deal, saying that he shouldn't be shuffled from company to company without his consent. Rather than go along with the deal, he filed for bankruptcy in May of that year. It wasn't until after a long fight that he signed to a new MCA sub-label called Backstreet. This fight for artistic control made him something of a hero among fellow musicians.
By the middle 80s, Petty was a rock superstar, collaborating with everyone from Stevie Nicks, Bob Dylan and the Grateful Dead.
That was followed by a stint in the Traveling Wilburys who released two platinum albums. Tom Petty's solo career began with Full Moon Fever in 1989, another massively successful release which included songs like "I Won't Back Down," "Free Fallin'" (probably his biggest single) and "Runnin' Down a Dream." That set him up for a long run of albums and tours that continued until just last week.
Tom's main musical collaborator was guitarist Mike Campbell. The lyrics were mostly pure Petty. Five of his 13 albums went platinum or multi-platinum with 1979's Damn the Torpedos still his biggest seller. Total album sales are somewhere north of 80 million.
His everyman quality–he looked and sounded nothing like a typical rock star from his era–endeared him to several generations of fans.
He also was admired for waging a war against his own record company who wanted the raise the price of his albums.  In early '81, his label announced it wants going to raise the price of his records by one dollar–they called "superstar pricing," which meant an MSRP of $9.98 instead of $8.98–something Petty vehemently opposed. Petty, working on what would become the Hard Promises album, went to war for his fans. As he held back the album from the label, he also told his bosses that the title of the new record would be Eight Ninety-Eight. He won. MCA didn't go through with the price increase.
Tom also got into acting. His first appearance in a film was as an artist being interviews at the fictional radio station portrayed in the movie FM. Later he became a semi-regular in Gary Shandling projects. He was a neighbour in It's Gary Shandling's Show and once got into a fake fight with Greg Kinnear on The Larry Sanders Show. Other appearances included role in the Kevin Costner film The Postman, a cameo on The Simpsons and a voice on King of the Hill of the Hill (he was Elory "Lucky" Kleinschmidt for five years.)
Petty did have his addictions. Heroin was a problem back in the 90s, but he was able to escape that.
He was inducted into the Rock and Roll Hall of Fame in 2002 and performed at the Super Bowl halftime show in 2006.
One thing that has gone underreported about Petty was his staunch opposition to the use of the Confederate flag.
Petty was married to Dana York Epperson (he second wife) and has two daughters from his first marriage, Adria and Anna Kim, and a stepson, Dylan.