Oh, Crap: Wedding Season Is Coming Up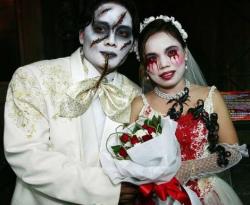 With end of winter comes wedding season, the time when I'm beseiged with emails from people asking for advice on things like first bride-groom dance and entrance music at the reception.
This just arrived the other day from a desperate dude named Kyle:
I have a dilemma. I am getting married this summer, and one of my tasks is to pick out the song playing in the background at the reception while the wedding party is introduced in pairs by the MC. I had "Make It Wit Chu" by QOTSA picked out. I thought it would be perfect, with its great walking beat timing, nice soft base hits, and the general uplifting tone, plus the fitting song title. Then my brother, unbeknownst to my plans, used this song for the same walk at his wedding last fall. I've been scooped! I am listening to old records and keeping notes, using Shazam on my phone when I hear a potential candidate, etc. I still don't have anything that I feel is good enough.
Can we help Kyle? And while we're at it, how about suggestions for that all important first dance?
Keep the suggestions cool, please. We don't need anyone saying "I know! 'Butterfly Kisses!'" or some such vomit-inducing rot. We're trying to do God's work, people.