The Oldest Known Song in the World is 3,400 Years Old. Listen.
Humans have been making music for tens of thousands of years but precious few of the super-ancient songs have survived. If you're looking for the Oldest Oldie of All Time (which I'm sure is in the public domain by now), we have to go back to the Hurrian songs found inscribed in cuneiform on clay tablets that were dug up from the Amorite Canaanite city of Ugarit. Today, that's coastal Syria.
After much translating, it was determined that one tablet features a hymn to Nikkal, a Semitic goddess of orchards. Instructions say it should be performed by a singer accompanied by a sammûm, a nine-stringed harp/lyre instrument. There are even directions on how to tune the harp.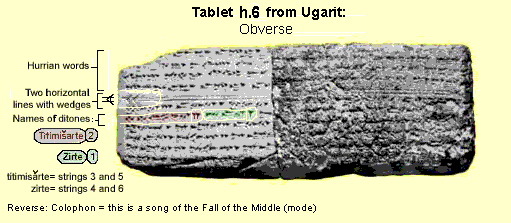 There are many other known Hurrian hymns, but we only have fragments. This one is pretty much intact–and it goes like this.
Would someone now please Goth that up?
Thanks to Tom for the link.