Once Idle, the Czech Firm Becomes the World's Biggest Vinyl Pressing Plant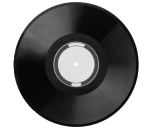 By the late 80s, things were bad for GZ Media outside of Prague.  Well, at least for the division of the company that that pressed vinyl records.  The decision was made to take the machinery off line and into storage.  It wouldn't be sold or scrapped–you know, just in case.
Good move.  GZ Media is now the world's largest manufacturer of vinyl records.  Read all about them in this Reuters story (via John).