One Last Japandroids Tour
Vancouver rock duo Japandroids have pretty much been touring nonstop since the release of their Near to the Wild Heart of Life twenty months ago. Before guitarist Brian King and drummer David Prowse take a well-deserved break to relax, recharge, and begin the process of thinking about another album, they've decided to treat the province of Ontario to a handful of shows in intimate venues that are sure to send 'em back to B.C. with a bang!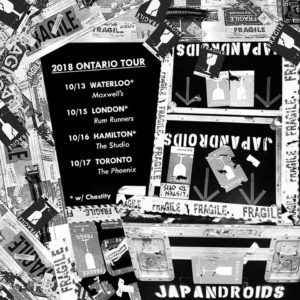 Or…should that be a bong? After Waterloo, London and Hamilton, Japandroids' final concert for the foreseeable future will be on Wednesday, October 17th at Toronto's Phoenix Concert Theatre, the same day recreational marijuana will become legal in Canada. To commemorate this landmark occasion, they'll do their best Cheech & Chong impersonation with the Up in Smoke Legalization Show. Tickets go on sale Thursday, September 20th for the rock bottom price of only $10.17, all in apparently. (I guess $4.20 would have been too low, profit margin-wise!)
Do not sleep on seeing one of the best live 2-piece bands out there for who knows how long. And as far as I know, Drug Fraud has no plans to change Ontario's laws with regard to smoking indoors, so the only high during Japandroids' set will be from their heart racing, classic rock-meets-punk tunes. They have a way of doing that!