One more look at Ottawa Bluesfest 2022 with a Wide Mouth Mason interview
[A final report on this year's festival from correspondents Ross MacDonald (photos) and Karen Coughtrey (text). – AC]
Before Wide Mouth Mason's show at Ottawa Bluesfest, A Journal of Musical Things sat down with Shaun Verreault and Safwan Javed to see what they have been up to the past couple of years and find out what is coming up for the band.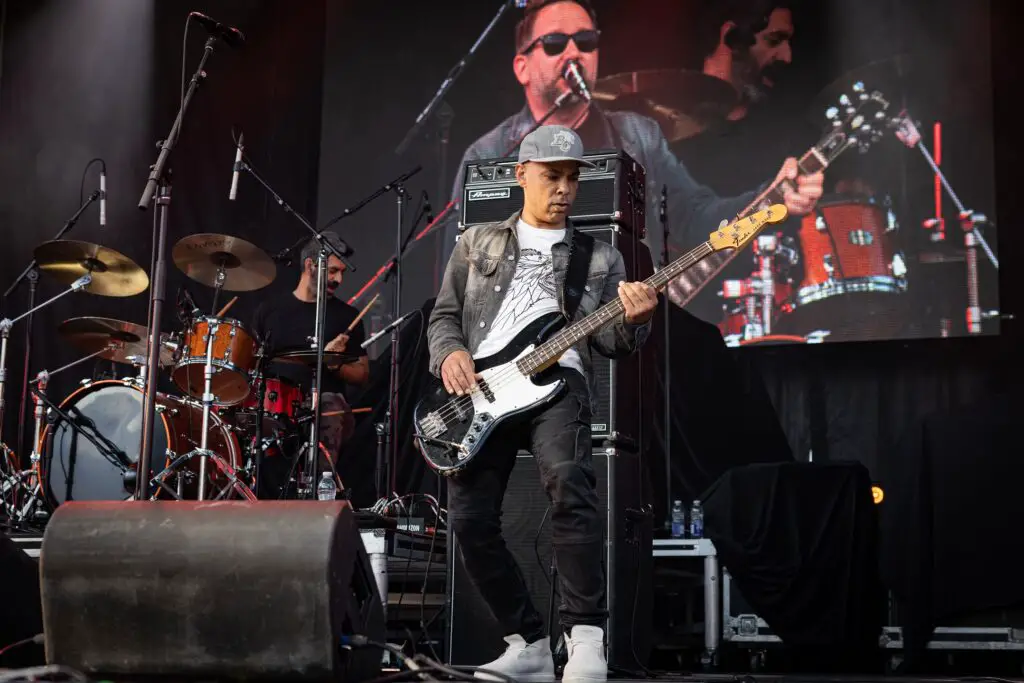 AJOMT: You grew up in the prairies, what made you want to start a blues band?
Shaun: In the prairies, probably still but for sure when we were growing up, all the prairie cities that we would go play had a blues bar. We grew up in Saskatoon where there was Buds on Broadway and they had a Saturday jam where regional legends like Big Dave McLean and Jack Semple [would play] and there's a father son team Doug and Curtis Scarrow who were the local vintage guitar awareness people and repairers and finders of stuff. It was this hub of musicality out of which came us and Jordan "Reignwolf" Cook and bands would go because they had a Saturday jam that you could be any age and go sit in.
The first time I walked into it, I thought a jam was people sitting on a bunch of chairs around with each other passing the guitar and I walked in and Curtis Scarrow was playing behind his head and the crowd was freaking out and I turned around to leave and Suzie Vinnick (who also played Bluesfest) didn't know my from anyone put her hand on my shoulder and said 
"Where ya going kid? I see you walked in with a guitar and you're leaving" 
I said "I think this is a little beyond me"
And she said "well what do you do?
[I replied] "I sort of play guitar, I like blues, I like R&B but I don't sing"
[she answered]  "Well I sing, you're going to come up with me in a few songs and I'll sing and you'll play guitar."
And it was that kind of a welcoming thing. As we started touring we found in Edmonton there was a similar place, in Calgary there was a similar place, so it was a respite from the cover band or new-country world that was out there that we didn't fit it into either of and we really found our home in that blues bar in the prairies world. Watching Jack, watching Big Dave, those were formative experiences for us. US bands were still touring through there at that time so we would see amazing stuff in Saskatoon close up and that made a huge difference in our musical awareness.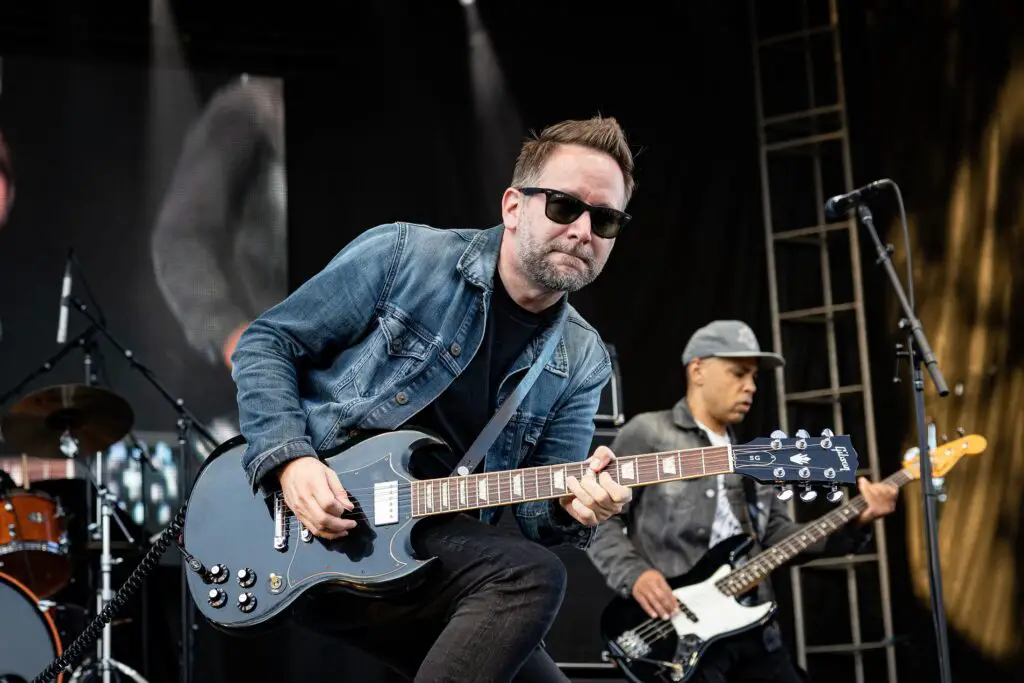 Safwan: I think pretty early on we were fans of the blues. BB King was huge for us, Buddy Guy was a really big deal to us, Stevie Ray Vaughan was a really big deal to us. Especially when you're starting out and I think even later on you try to emulate your heroes and those guys were that for us. 
Some of your albums have strayed into other styles, pop, world music, jazz but you always return to the blues, is that because it feels like home?
Shaun: Yeah, and I think we've always felt if it was coming out of the three people in the band and it was my voice mainly singing it there was only so far away from sounding ourselves that we could get. So we tried to cast a wide net. Blues has always been the middle 12 letters of our alphabet and everything that came in around that also went into the melting pot. Our last record, I Wanna Go With You, was one of the first times we sat down and went lets really explore that vein of what we do and there were songs that we loved that we left off of it because they didn't fit. We were trying to make our bluesiest record to explore that. The rest of the time, included in our list of heroes that Saf listed off were people like Prince. For whom every record would be a different thing, he would look different. We really wanted to explore all the different kinds of music that we love and have them just feed in to being eventually enough of a hybrid that it's us.
Safwan: It was also our time to discover music. We were in our twenties through most of the early part of our career. We were discovering the vast library catalogue of music that existed before we were even born. As that happens you start to expand your horizons and we would always, even without saying it, try to challenge each other by bringing new stuff the others hadn't heard. So someone would bring a Ben Harper record and someone brought a Peter Gabriel record and someone brought an Audioslave record. All those things listening to them in the tour bus or when you're hanging out, that starts to seep into how you want to play your instrument and stuff you want to experiment with. It was a natural progression that we didn't try to cap, we just let it do its thing.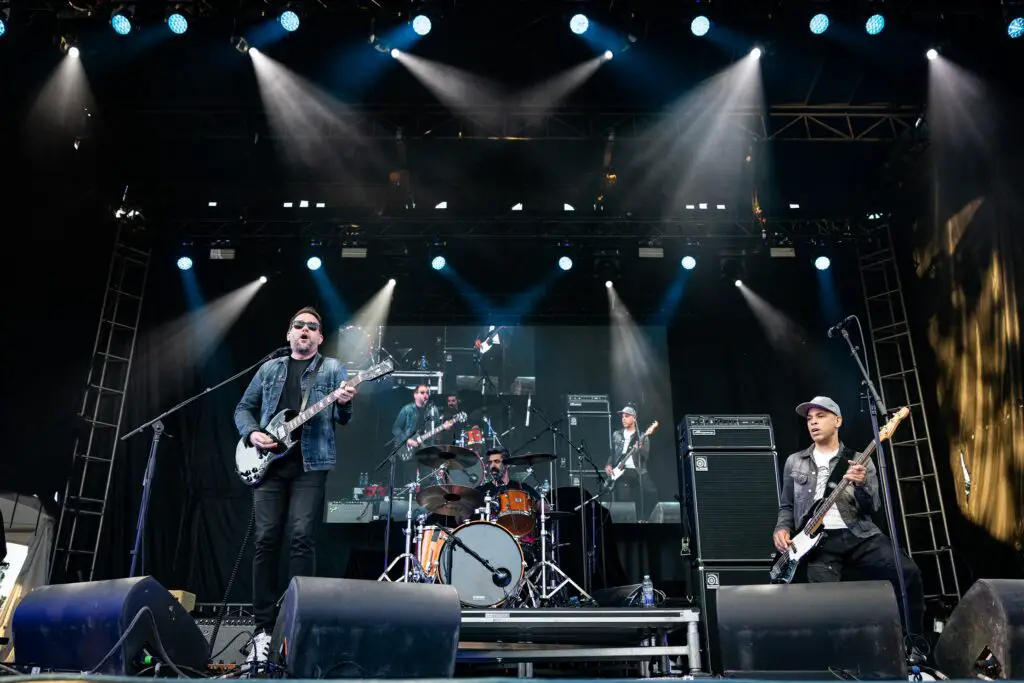 AJOMT: The latest album has a travel and transition theme. Was that connected to your desire to explore blues more deeply?
Shaun: It's funny how reverse prescient that ended up being that we made a record called, I Wanna Go With You, that was a lot about traveling and transition right before a couple years of no traveling and no being with anybody else. Which maybe lent itself to the blues aspect. It certainly did feel that that was a theme in it and travel and movement from one place to another was a recurring thing that came up. Sometimes it's afterwards when we sit and look at a body of songs and [notice] our first record mentions rain a bunch of times, wasn't thinking of it, didn't live in Vancouver at the time it just ended up happening.
Safwan: We're not as thought out as we may seem to be.
Shaun: That's right. Everything happens and then we reason.
AJOMT: Most of the tracks on I Wanna Go With You feature Shaun playing the guitar technique you've dubbed threestyle or trislide, can you tell us more about what that is and how you came to play it?
Shaun: Lap steel traditionally is played with a bar that you hold and that becomes your one digit. I was lucky enough, when we played at Bluesfest in 2017 I sat in with the Campbell Brothers who are a sacred steel band. The Church of God groups would be the Hammond organ isn't the lead instrument the lap steel is and they are masters at playing that style. You can do things where you can slant the bar so you're catching some strings at different angles. A friend of mine gave me a lap steel but I couldn't make sense of it or at least everything I did sounded like a seasick version of what someone else could do better. I couldn't find my voice on it. When I play bottleneck slide, when I slide on my pinky when playing regular guitar I use my other fingers a lot still so I was missing those other digits.
One day when I was sitting in the airstream trailer belonging to Ryan Dahle, who we made I Wanna Go With You with and are making our latest record with, the lap steel was living at the studio because I couldn't do anything with it and for whatever reason I just started putting different slides on different fingers. It was rough and raw but a light bulb went off where I [thought] I can make one of these the main finger that holds a chord and the other ones can play melodies and move on top of that. Not only that but I can make some notes move down in pitch and some notes move up in pitch at the same time.
I grew up loving people who not only musically made choices I liked but added to the technical or the style catalogue like Roland Kirk playing three horns at once or Charlie Hunter playing bass and guitar at the same time or Stanley Jordan playing finger style. I wanted to explore if I could create something where there wasn't anything to refer to. The most crucial part of that was that it had to enable me to do musical things that I couldn't do on any other instrument. If it was just look how I made this simple thing really hard to do and look funny it wouldn't have been worth pursuing but I discovered I could do stuff on it I couldn't do any other way and it sent me down that path.
Even when I wasn't creating or developing a guitar style, I feel like I threw myself a curve ball every couple years as a player just to see what it brings about to pre-emptively prevent plateau's. [Things like] I don't get a pick for the next year, I have to play everything with my fingers or I'm going to play everything with a slide that I've never played with a slide before. It keeps you reaching and guessing and never totally sure and making creative choices all the time instead of just falling back on what you know you can do.
Safwan: You don't just do it musically. I can say as someone who's known you a long time, I think that's an element of your personality, your risk tolerance is quite high, you're hungry to throw yourself into new and uncomfortable situations pretty regularly in your life. This is who you are. That's a similar trait probably amongst the Roland Kirks and the Tom Morello's and whoever else is out there doing really innovative stuff. You have to be kind of fearless.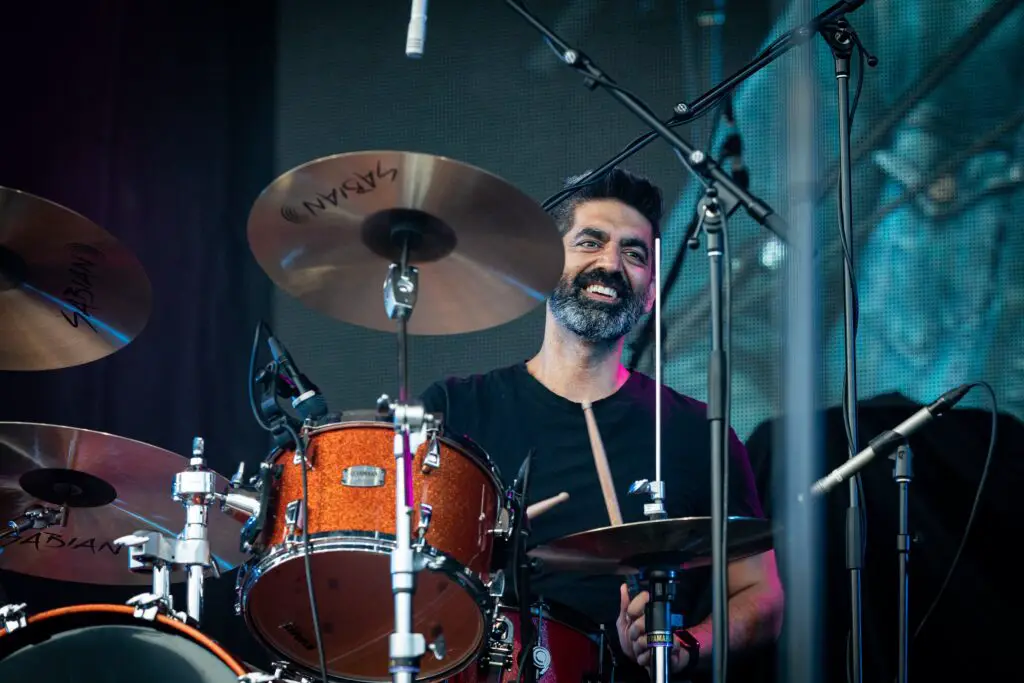 AJOMT: For the video 'Get a Hold of You', did you shoot that in the same alleyway where Rick Mercer did his rants?
Safwan: Yes it was. It's graffiti alley. I don't know if it's the exact spot where he shoots, the graffiti alley network in Toronto is pretty big but it's shot in one of those.
Shaun: Gordie Johnson was the director of that. It was shot on his iPhone and laptop that we were holding up as we were walking. He went from a complete analog technical luddite to a person who immersed himself in and came to understand technology really really acutely. He got an editing suite and started grabbing footage of us whenever he could and on a flight while we might have been watching a movie, he'd be tinkering with it and playing and putting footage together. He became really really good at it. That video is all him.
AJOMT: How did your relationship with Gordie Johnson start? Filling in on bass or production?
Safwan: So when I was in university and we were doing cover gigs in the summer, Big Sugar was starting to be a thing. He was one of the bands I'd go see at our college pub and so we were all fans of his. At one point when things started to happen for our band we got an opening spot on a show he was doing with Big Sugar in Saskatoon and our manager just bugged him to no end until he finally [agreed to come watch our band]. And he did and I guess he liked what he saw and he said I want to take you guys on a national tour. At that point 'Diggin' a Hole' was just starting to chart and we're this band that's never played east of Winnipeg and now we're on a national tour with Big Sugar who has a top 5 hit in the country. We're playing to sold out rooms, it was such an amazing opportunity for us to get in front of audiences and it really helped to bolster the beginnings of our career and our friendship with him.
As things moved for us and he kept doing his thing we would end up at a lot of shows together, we shared an agent so we ended up being co-bills for lots of things and our friendship grew until we needed a producer for our third album and he happened to be where we were workshopping our songs for and he said why don't I come down and see how we write together. So he did and it went incredibly well and he produced that album for us, it's called Stew. After that, he was one of our key brethren, this is someone who is going to be with us for a long time and sure enough we came back to produce another record with him. At that point our original bass player had left and we thought we have a tour with ZZ Top, what are we supposed to do, and so because he was like our big brother, he was really well connected [we asked him if he knew anyone]. He said [he'd] check with some dudes and see what's out there and a day later he said, "I think I have the guy, it's me. I played bass for many years before I even picked up a guitar. I would love to do it." We thought this was a great idea and we went on tour with ZZ Top with him as our bass player. I can say it might be the most fun I've ever had on tour. The playing musicality was unbelievable, the hang was great. We just had a great time and you know what at this stage it's as much about the people you're hanging out with when you're on the road as it is about their musical fit and he lined up on both those accounts.
AJOMT: Big Sugar has a similar blues/rock vibe that is guitar forward. It seems like a great fit, are you still working with Gordie?
Shaun: Yes. When we made our last record, a method of working we found works really well for us, was for Saf and I to track live together and to keep things pretty loose and improvisational. Things can just kind of happen because we're vibing off each other and if a bass player is trying to follow along, particularly when I'm playing trislide and they can't tell by looking at my hands what the chord is, it's efficient for us just to do it the two of us and then add the bass afterwards. On the last record, Darren Parris, who's playing with us tonight, played some of the bass, Ryan Dahle played some, I played some. On this new record, as soon as we decided we're going to go to Ryan's place to start working on these songs [and decided to do it the same way again with just Saf and I, Gordie expressed interest in being involved with the bass tracks]. So we sent some tracks to him and he sent back mindboggling arrangements and tonal choices. We've played so much together it's as if we're all playing live in the room. The interplay stuff happens even though we weren't doing it at the same time but we're really really thrilled and happy with the way it's turning out. We're six songs into a new record and after our gigs next weekend we're going to go and finish recording a bunch more songs for it and so far Gordie's played bass on almost everything. It's those decades of experience with each other have rendered so many things not requiring conversation or preambles. Here's a thing, you do you on top of that, holy shit that's really cool what you did on top of it. He's very much part of the family still.
Safwan: I can't see him not being. I think he'll be our big brother musically or otherwise until we're dead.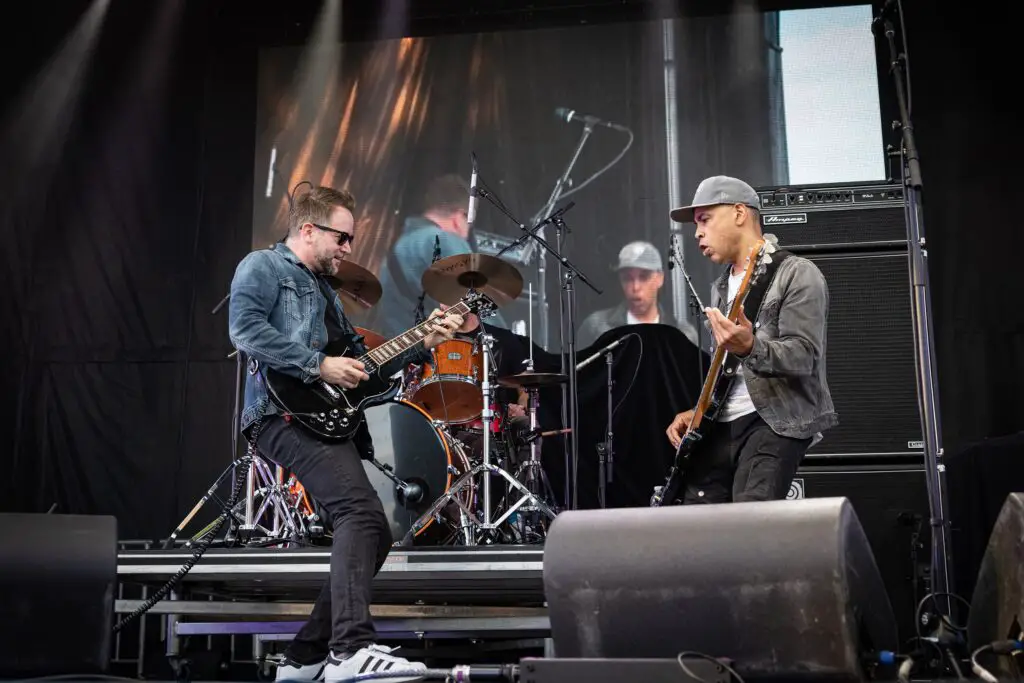 AJOMT: If you could work with any blues artist, who would it be?
Shaun: There's such a rich mine of stuff going on right now from the Tedeschi Trucks Band to Gov't Mule, again similar to us where blues is as the core of what they do but they've added their own pieces to it. I was just chatting with Ariel Posen and we're also pals with Joey Landreth who we used to play with.
Safwan: Gary Clark Jr would be really cool.
Shaun: Just before sitting in with the Campbell's, I had run into Robert Randolf who's another great lap steel player and we've jammed together. It would be fun to do some stuff together. In the meantime we have The Trews who we've done a bunch of shows with and it's always great to get up on stage and play together and be around each other.
Safwan: When we did the last ZZ Top tour we got to hang out with Billy Gibbons quite a bit and then at some point it would turn into lets go out on the town it's a day off and in Winnipeg we know this place we can go and they might be able to have us come in and jam and it worked out, after pulling some strings and we got to jam with Billy for an hour and a half that night.  So some of it is already happening. Because we've known each other for so long we try to keep each other grounded but sometimes we need to remind each other we've got to do some pretty cool stuff and let's appreciate that at this point in our lives.
AJOMT: You have a few tour dates this summer, how does it feel to be back on the road? 
Safwan: The Best. I don't know that I've appreciated playing music as much as I appreciate it now. Maybe at the beginning of our careers but even then… the hunger for it or the inability to go out and do it, for long stretches without having it be a regular part of the routine really drove home for me how fortunate we are to get to do this at all much less a bunch of shows in any stretch of time. It's as good as I've felt in my life.
Shaun: and even the logistical fuckery that's been rampant throughout, flights and things that happen, delays and cancellations, all become a lot more palatable when you're reminding yourself how great it is to be doing it at all after a few very quiet years.
AJOMT: You have so many great hits from the 90s and 00s, they must be fan favourites. Do you get tired of playing them? Or do you put some twists in the songs?
Shaun: We take some out of the running and then put them back in. There's a song we're going to play tonight that has not been in the set list for maybe 15-17 years until the last show we did a couple weeks ago. There's so much room in our music to play it differently each night depending on how we're feeling. And if there ever was any fatigue it's years away from us now. If you start playing a song and think Oh man how many times have we played this and you look out and people are singing it back to you, and it just makes it fresh all over again. This becomes less about me not wanting to repeat that line again and more about sharing it with the audience. People of our generation are coming and bringing their kids now. Like, hey there's that guy we always see in Toronto and that's his family, it makes it fresh again and makes it so that these have become family members to us these songs that we've now known for 25 years.
Safwan: They may have been difficult to deal with in their teens but now that they're grown adults we don't see them as much and it's pleasant to see them again.
AJOMT: You've mentioned you're working on a new album, is there anything more you'd like to share about it?
Shaun:  I feel like we're just making sense of it now. Where the last one was, let's zoom in and make a blues record, this one is zoomed back out and let's just survey and write all the songs we can and choose our favourite songs. This is such a cliché but I really do feel some of our best work is on this record.
AJOMT: Besides the album, What's next for Wide Mouth Mason? More of a tour?
Shaun: Last year we had two tour dates, the year before we had zero, and this year I think we have 9 or 10.
Safwan: So we'll ramp that up. At some point we'll do a full tour. It'll be more of the same, lather, rinse and repeat. We're feeling really good. We're feeling energized, refreshed, hungry for it. Our kids are getting older so it's possible to spend longer stretches out there. I think you'll see us ramp stuff up as best we can.
And a couple of hours later when Wide Mouth Mason did hit the stage, they certainly were energized, refreshed, and hungry to perform!
They kicked off their set with their first single 'Midnight Rain', and through much of the evening the group gave the crowd what they wanted to hear most of their hit singles that span their long career. In the middle of their set, Shaun pulled out his lap steel guitar and gave a demonstration of his tri-slide technique. Unlike traditional country musicians who hold and vibrate one note at a time, Shaun has slides on three fingers and performed masterful runs and pentatonic riffs; with the distortion turned up, it was surreal to watch and listen to. And even when playing one of his more traditional electric guitars, it was delightful listening to Shaun; he seemed to run out of frets on several of his solos.
It is a pleasure, and nice reprieve, to watch a drummer that isn't pounding hard on the skins. Safwan plays with finesse, he has fast hands that provide a groove that is reminiscent of Stewart Copeland's syncopated beats. Saf and Shaun were joined by bassist Darren Parris for their tour. Darren definitely had the right vibe for Wide Mouth Mason interacting well not only with the band, but also the audience.
Ottawa was treated to musical mastery when Wide Mouth Mason played at Ottawa Bluesfest, with the bonus that they were a band that has some beautiful blues hits in their repertoire.