One of U2's "Claw" stages from the 360 Tour has found a permanent home
When U2 hit the road on the 360 Tour, they had three giant stages dubbed The Claw. Each one was 165 feet tall and weighed 190 tons. They needed three of the multi-million-dollar structures because as the band was performing in one city, another stage was being set up on the next stop on the tour. Meanwhile, the previous gig's stage was being dismantled and prepared to leapfrog ahead to two stops down the road.
These were very specialized structures, so when the tour ended, no one really knew what do to with them. Until now.
The Loveland Living Planet Aquarium in Salt Lake City has acquired a Claw for a new 9-acre $25 million expansion. It's not going to be used in any aquatic way, though. Instead it will be a "defining architectural element" for the park.
Here's an artist's rendition of what it will look like when construction and installation are complete.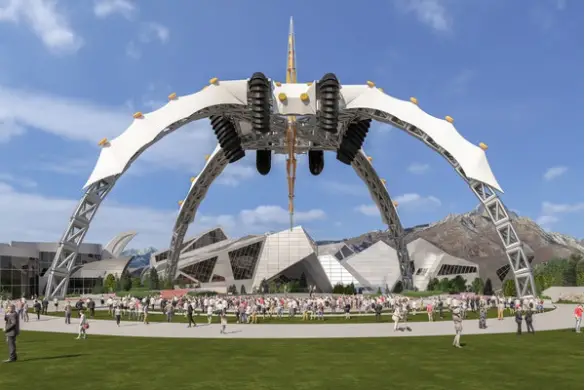 I wonder what will become of the other two stages?