One year ago today, Neil Peart died of brain cancer. Rolling Stone has a special tribute including the heartbreaking details of his last years.
It was around 9am on January 7, 2020, when I got the call. Neil Peart had died of glioblastoma, the same brain cancer that killed Gord Downie.
How could he have died? Who knew he was even sick? But then again, Neil had always been an extremely private person even before his retirement to California. Everybody around him was sworn to secrecy about his illness for three whole years. The world only found out after he'd passed away.
Today, on the one year anniversary of his death, Rolling Stone has issued this digital tribute.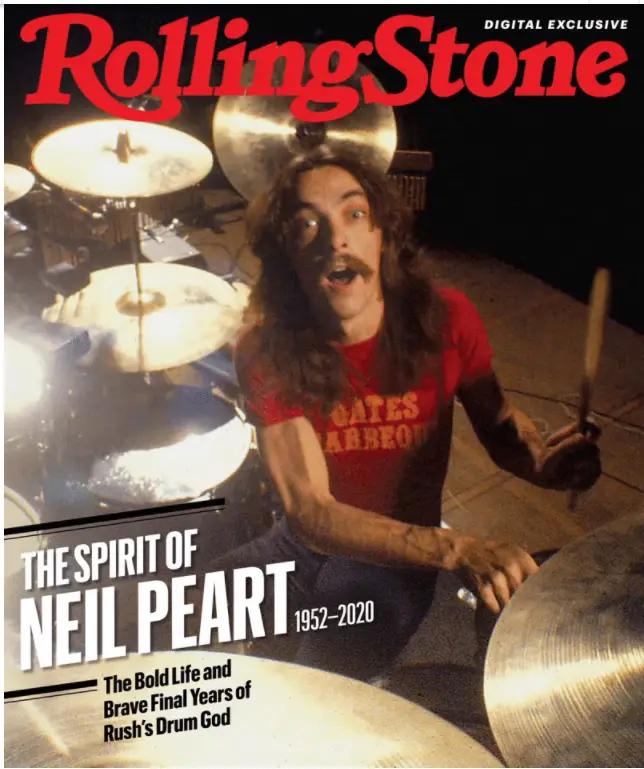 Here's a heartbreaking excerpt.
Peart started doing newspaper crossword puzzles back in the early Seventies, when he traveled to England from his native Canada to make it as a drummer, only to end up as the manager of a souvenir shop, with time to kill on a tube commute. For the past couple of decades, he made a ritual of whipping through the New York Times Sunday puzzle. In June 2016, he was baffled to find himself struggling with that task. "He couldn't figure it out," says Rush's longtime manager, Ray Danniels. " 'What was the matter?' "
Peart kept his concern to himself, but by summer, he was showing signs of what Nuttall assumed to be depression. She broached the subject with Danniels during a visit to the manager's house in Muskoka. "I was like, 'Carrie, he got everything he wants,' " Danniels recalls. " 'He won. He got his freedom. He got a huge paycheck off the last tour. This is not depression.' "
In late August, Nuttall and Peart's mother both noticed that he was unusually quiet. When he did speak, he started "making mistakes with his words," as he later told his bandmates. He rushed to a doctor, and after an MRI, ended up in surgery. The diagnosis was grim: glioblastoma, an aggressive brain cancer with an average survival time of roughly 12 to 18 months. 
Genetic testing of Peart's cancer suggested it was unusually treatable, and Peart lived until January 7th, 2020, more than three years after his diagnosis, which, in the case of this illness, qualified him as a "long-term survivor." 
"Three and a half years later," says Lee, "he was still having a smoke on the porch. So he said a big 'Fuck you' to the Big C as long as he could."
Shortly before the surgery, Peart placed an uncharacteristic FaceTime call to Alex Lifeson, on the Rush guitarist's birthday. "It was so unusual to get a call from him, because he was never comfortable on the phone," says Lifeson. "You'd get these beautiful emails from him. But he wasn't that crazy about talking to anybody. I was in shock. But I could tell there was something weird. I thought maybe it was a difficulty with a connection or something. But he just didn't seem like he normally was. And I kept thinking about it afterwards."
A couple of weeks later, Peart sent an email to his bandmates with the news. He didn't pull any punches. "He basically blurted it out," Lee recalls. " 'I have a brain tumor. I'm not joking.' "