The Ongoing History of New Music, Episode 708: The 35th Anniversary of The Clash's London Calling
Punk was dying.  After burning very hot and very bright for a couple of years, it had played itself out. Most people thought it had nowhere to go.  But then on December 14, 1979, The Clash released London Calling, a double vinyl record that forced it to pivot into brand new direction. In doing so, the record was hailed as one of the greatest in the history of rock'n'roll.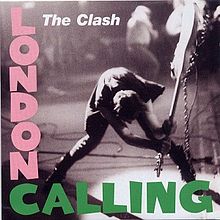 This week, it's a deep, deep dive into London Calling for some of the astonishing stories behind how it was written and how it was recorded. Think there isn't anything else that can be said about this record? Think again.
The Ongoing History of New Music can be heard on the following stations:
And if things go well, the show will soon be heard on a few other stations. I'm looking for outlets in Vancouver, Kamloops, Kelowna, Red Deer, Grand Prairie, Regina, Saskatoon, Brandon, Windsor,  Montreal, Charlottetown, Moncton, Fredericton, and St John's and anywhere else with a transmitter. Anyone? Anyone want to start a campaign?