Oops: Hardcore Singer Accidentally Swallows His Micocrophone
A couple of years back at the M for Montreal Festival, I witness something I'd never seen before. The singer of a tremendously weird and exciting band called Aids Wolf was able to stick the entire head of a Shure SM58 into her mouth. The whole thing. Maybe this ability inspired this song.
Fortunately, she was able to remove it with no issues.  But ever since then, I've wondered if it was possible to accidentally swallow a mic in this fashion.
Well, it is.
Meeet Eric Sarno, frontman for a Cleveland hardcore band called Live It Down. He might not ever live this down.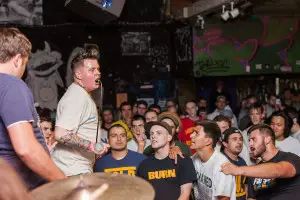 Sarno was doing his thing when he was hit from behind by a stage-diver. The mic disappeared down his throat.
"Some of us started screaming into his belly, as if he were pregnant. Others decided to yell down his throat, it was sheer pandemonium," show patron Marie Daniels told The Hard Times.
Don't worry, though. He's okay although the microphone is done. Good thing it wasn't a wireless mic, huh?  And before you ask, there's no movement to change the of the band to Deep Throat. Damn, I wish there was video.