Orbyt Media welcomes Alan Cross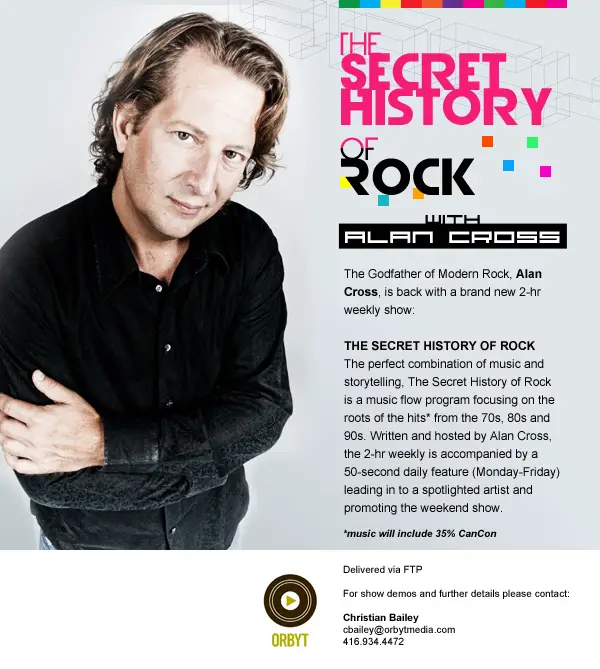 So, yes, I have a new gig.  Below is the press release from Astral that explains what's going to happen.
It'll be great to be back on the radio across the country and beyond.  And I can keep the dog in kibble for a little while longer.
Canada's premiere radio content syndication group, Orbyt Media, part of Astral Media Inc. (TSX: ACM.A  ACM.B), is thrilled to announce a new content development partnership with one of Canada's pre-eminent radio and music personalities, Alan Cross.  A self-described "professional music geek",  Alan has distinguished himself as an icon in the music and broadcasting industry with critically acclaimed programs like The Ongoing History of New Music and his multi-platform production ExploreMusic.com  and Explore Music TV seen on AUX TV.
Dubbed the "Godfather of Alternative Music" for his groundbreaking work bringing the stories and personalities of the alt music scene to the airwaves for over 25 years, Alan Cross will be writing and hosting The Secret History Of Rock with Alan Cross,  a 2-hour weekly program devoted to the classic hits of the 70's, 80's and 90's.
Alan Cross will also be contributing to Astral Radio's digital platforms creating a variety of content including the launch of an alternative music channel, music blogs, artist interviews and music reviews.  Rob Farina, Astral Radio's Executive Vice President of Content comments "We are very excited to develop and syndicate Alan Cross' shows and content across Canada and allow music fans to benefit from Alan's keen sense of history and emerging trends in contemporary music."
The first show launching will be The Secret History Of Rock with Alan Cross. This daily feature and long form weekend show will focus on the seminal music that shaped the alternative movement spanning the 70's, 80's and 90's. The Secret History Of Rock with Alan Cross will be launching October 11 on boom 97.3 in Toronto and on radio stations across Canada. Check local stations for show times.
Orbyt Media's Vice-President and General Manager Lesley Soldat is thrilled about this new partnership, saying: "For 22 years I have been professionally lusting after the caliber of Alan's work – this is my lucky year."
Alan Cross was one of the architects of the legendary CFNY and is a three-time recipient of the Music Industry Award for Program Director (2005, 2006 and 2008).
The show he created and hosted, The Ongoing History of New Music, was the longest-running music documentary in Canada. He has written four books on music, released over 20 compilation CDs (including four official Ongoing History discs), is a noted music commentator for TV, writes for the Metro newspapers and other publications, has worked on an appeared in a number of films on music and has four best-selling audio books entitled The Alan Cross Guide to Alternative Rock.
About Orbyt Media
Orbyt is Canada's premiere content syndication group, providing the most comprehensive lineup of feature programs and broadcast services to over 260 stations across the country. A division of media giant Astral Media, Orbyt is strategically positioned to distribute and build brands across not just Astral Radio stations, but every Radio Broadcast Group in Canada. Orbyt exclusively represents such top-rated multi-platform entertainment properties as 'On Air' and 'American Top 40' with Ryan Seacrest , 'Radio Perez' and 'The Fab 30 Countdown' with gossip blogger Perez Hilton, 'TMZ Daily', 'The 80s Show 'with Stu Jeffries and "KCC", 'Sixx Sense' with Nikki Sixx , 'The House of Blues' with Dan Aykroyd,'The John Tesh Radio Show', 'The Blair Garner Show' and 'American Country Countdown', among more than 50 other branded content titles.  For more information visitwww.orbytmedia.com
About Astral
Founded in 1961, Astral is one of Canada's largest media companies. It operates several of the country's most popular pay and specialty television, radio, out-of-home advertising and digital media properties. Astral plays a central role in community life across the country by offering diverse, rich and vibrant programming that meets the tastes and needs of consumers and advertisers. To learn more about Astral, visit www.astral.com.