Ottawa indie faves Amos the Transparent play a hometown gig and give us an interview
[Text by Karen Coughtrey. Photos by Ross MacDonald. – AC]
The night of May 27 was rainy in Burnstown, Ontario but the mixed-age, full house crowd inside the Neat Coffee Shop (former schoolhouse turned music venue) was warm and dry and Ottawa indie band Amos the Transparent was teaching a lesson on how to put on a show.
This was the band's first show in a long time, they recalled the last time they played at Neat, they'd performed behind a plexiglass barrier, and lead singer Jonathan Chandler even joked they were just aiming for a performance that was better than those at a high school talent show. Audience member and well-known singer/songwriter Jim Bryson assured the band of what everyone in the audience knew, that the band would win the talent show.
The crowd was pleased to be entertained by two lengthy sets, each a mix of original songs and a couple of covers, with funny conversations between the band members and with Jim between songs.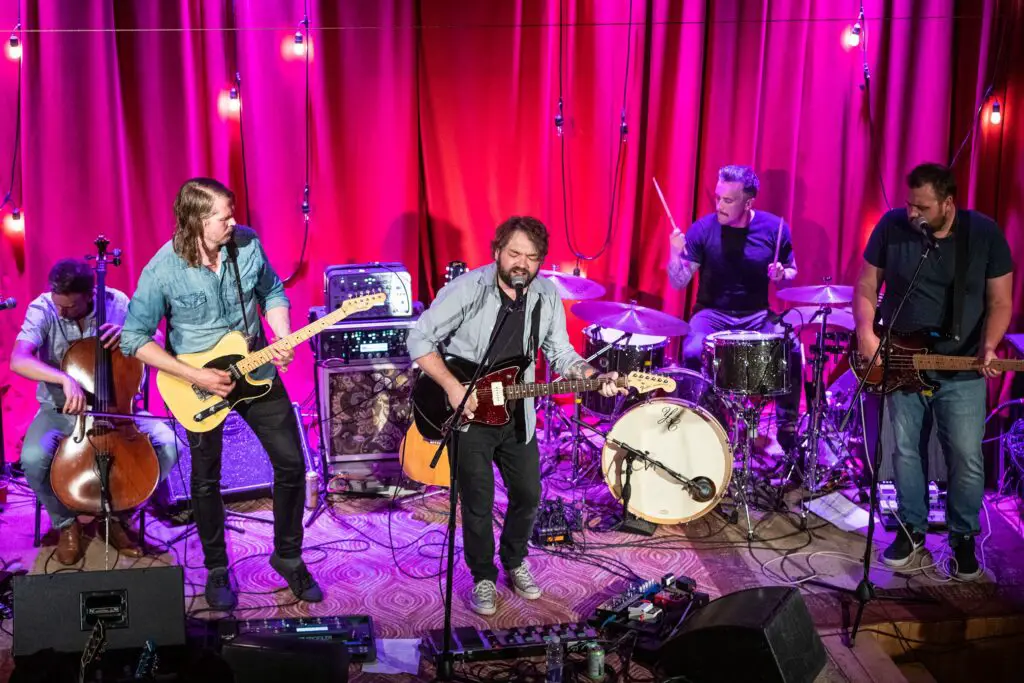 They were missing the female member of the band, Olenka Reshitnyk, but the guys put on a great show and toes tapped, hands drummed on knees and heads bopped along to their songs 'This Cold Escape,' 'It's Only Getting Better,' 'Lemons,' and 'Change My Mind.' And some members of the crowd were even up dancing in the aisle during their performance of 'Says The Spark.'
A particularly wonderful part of the night came when the band invited the crowd to sing along on 'Greater Than Consequence' the blending of audience and band voices created a truly melodic, beautiful sound.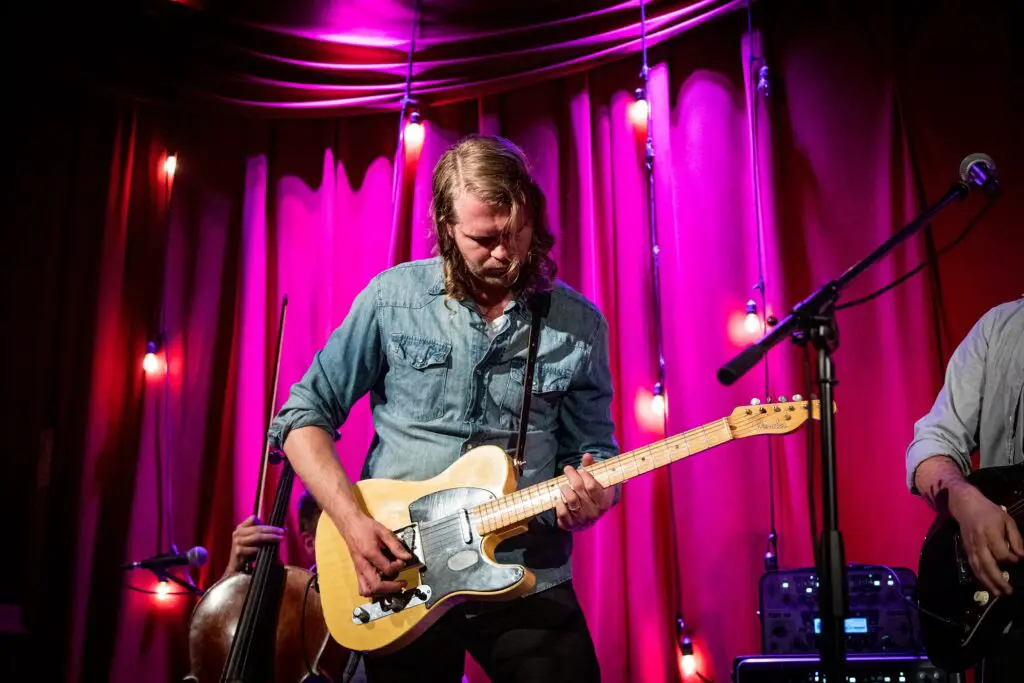 Mike Yates on the cello made their cover of Radiohead's 'Fake Plastic Trees' another hauntingly beautiful part of the night and they also performed well-received covers of Coldplay's 'Yellow' and a haunting tribute to Taylor Hawkins with the Foo Fighters' 'My Hero.'
Before the show, A Journal of Musical Things had an opportunity to chat with Amos The Transparent about what's next for the band.
AJOMT: We have to bring up the elephant in the room. Back in Nov/Dec, you announced that you were going on an indefinite hiatus. It seems like you have had a change of heart. What's up?
Jonathan: We'll see what happens. The pandemic made everybody stop and I think. For 15 years before that, there was no opportunity to stop, at least for me mentally. That pause forced me to realize how much pressure I put on myself and then I was able to put things in perspective.
When you're going going going, and I'm not saying [just] musically, everyone has growing families, everyone has careers, we're also trying to do this as much as we love it and then being able to step back and put that in perspective, I really kind of questioned everything. To what point do we want to keep bugging each other to do something that might still be the exact same thing over and over and over? I have a big fear of constantly becoming another version of exactly what it was yesterday.
There was a point in the pandemic when I was ready to make a record but everyone had their own [stuff] going on and I think I was the only one ready to make a record and then nobody [was] responding so I made my own record. I remember Dan saying years ago, the second you start writing for another project that could be the end of Amos and that wasn't my intention but I did spend months really harping on myself. I'd think of what it could have become versus what it has become. Then we met and they convinced me again that at the end of the day these are guys I've been playing with for over a decade, these are my brothers. So we'll see.
There was the idea that we were going to play our final show at our annual Christmas show which is always a big thing and then obviously we couldn't do that and we rescheduled to tonight and tomorrow, and I'm not saying that tonight and tomorrow are going to be the last shows that I'm interested in. But to answer your question originally, we'll see what happens.
If someone says we can hit the road for three weeks, it's going to have to be a damn awesome tour and I tell you right now as a six-piece band we're not going to get offered to go on the road and the compensation isn't going to be worth six families' time.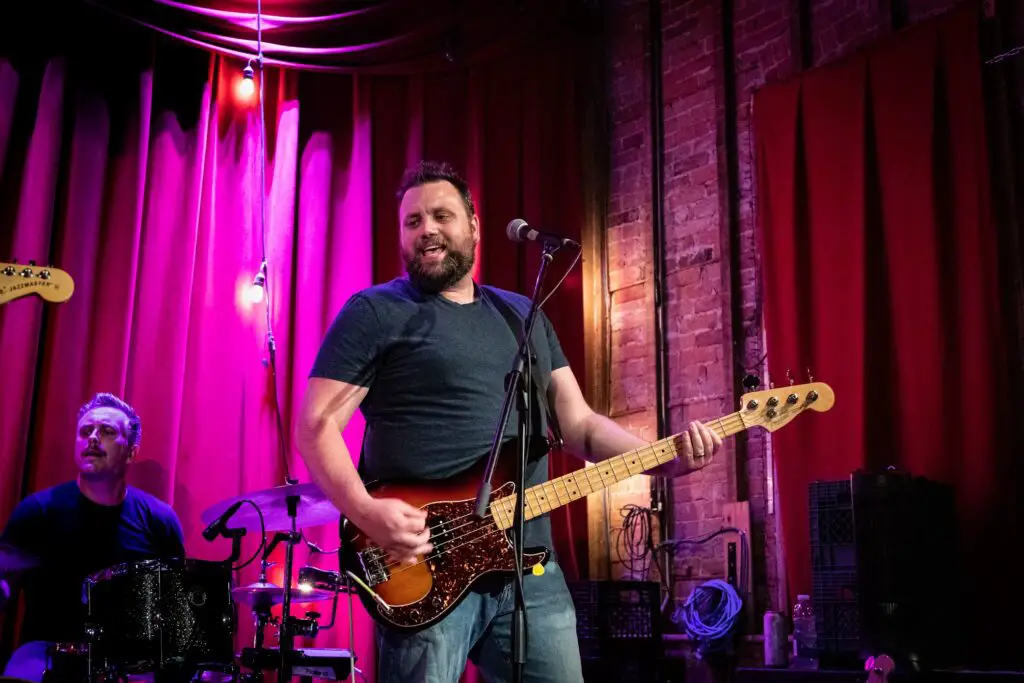 Chris: It's about figuring out how to do it in a different way and figuring out how to do it and still be happy with the product and the shows and everything we're doing but being able to have our own independent lives at the same time, that everyone has their own stuff. That's what we realized, do we want to live out of the back of the van? No, we don't. Are we going to go play some shows? Probably, but let's take it one step at a time and figure out; is there some new stuff to write? Is there some new stuff to release? We hope so, I think.
There should be no pressure at this point, we've done this long enough. Is it going to be our full-time job? No, but let's just take one step at a time, play the shows we want to play, and don't play shows just for the sake of playing shows and enjoying it. Play shows that are meaningful to us as a band, and release stuff that is meaningful to us. We're not forced to do it and we'll do it at our own pace.
Dan: It's all about reframing something that we've been doing for the last twenty years and as Jon was saying there was always this; we have to do this, we have to meet every week, and we have to go through the motions and then we're [thinking] if we're not loving doing that kind of schedule then why not reframe this to be something that really still works for us and something that we're excited to do and just do the shows we want to do. Not worry about needing to be doing x number of shows per month to call ourselves a band [or that] we need to release something or else people are going to forget or whatever is in our own heads about it. It doesn't have to be that way. We can completely reframe this and do something that works for us, or not.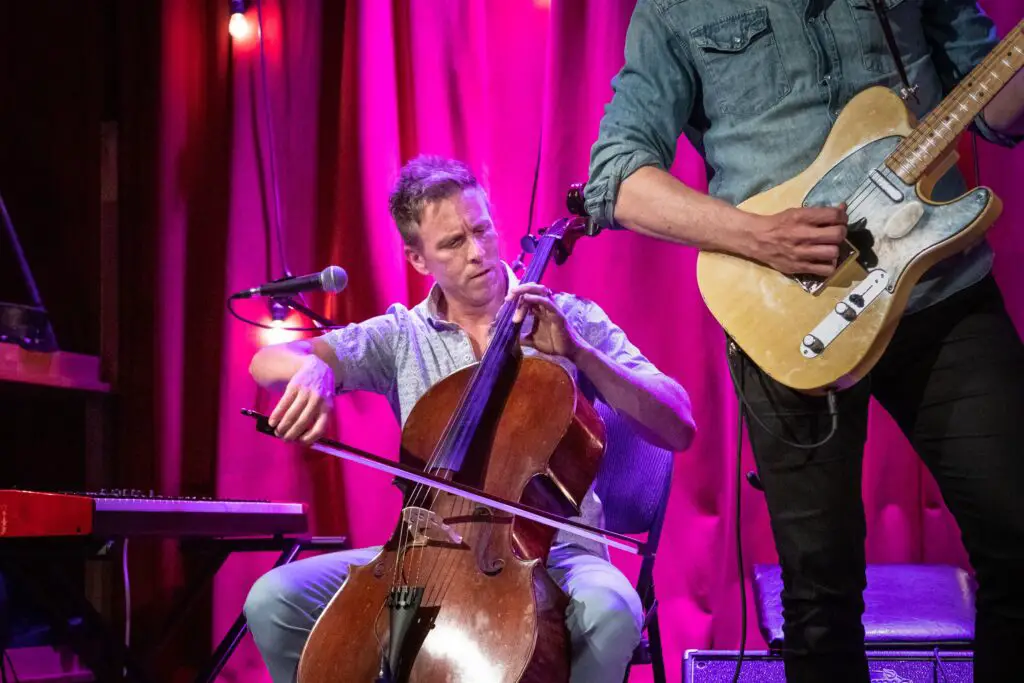 Chris: All the shows we pick to play now are shows where people are coming out and we're playing to a full house versus going and traveling to London to play for a small little crowd. There's this emotional battle, I remember we'd go and play a sold-out show in Toronto and then we'd go play in Cambridge and there'd be five people and then we'd play in Windsor and play a sold-out show then we'd go there and there'd be two people, it's like a roller coaster of emotion. Whereas I find the way we're doing it now, every show is so much fun because we're picking the shows we want to do instead of just playing for the sake of [it].
Dan: We're playing for people that know our songs and like our songs. We went through a phase where we would just accept whatever show, and [think] that's neat, it's a nice payday. They just want to hear you cover whatever and they're not interested in what you want to play and the set that we like doing which is going in a few different directions. It is really nice to play for people who are along for the ride that you want to go on.
Chris: I'm the biggest fan too. This started as me being a fan of Jon's music. I love what we play and it's so much fun. It's that balance and figuring out the right balance.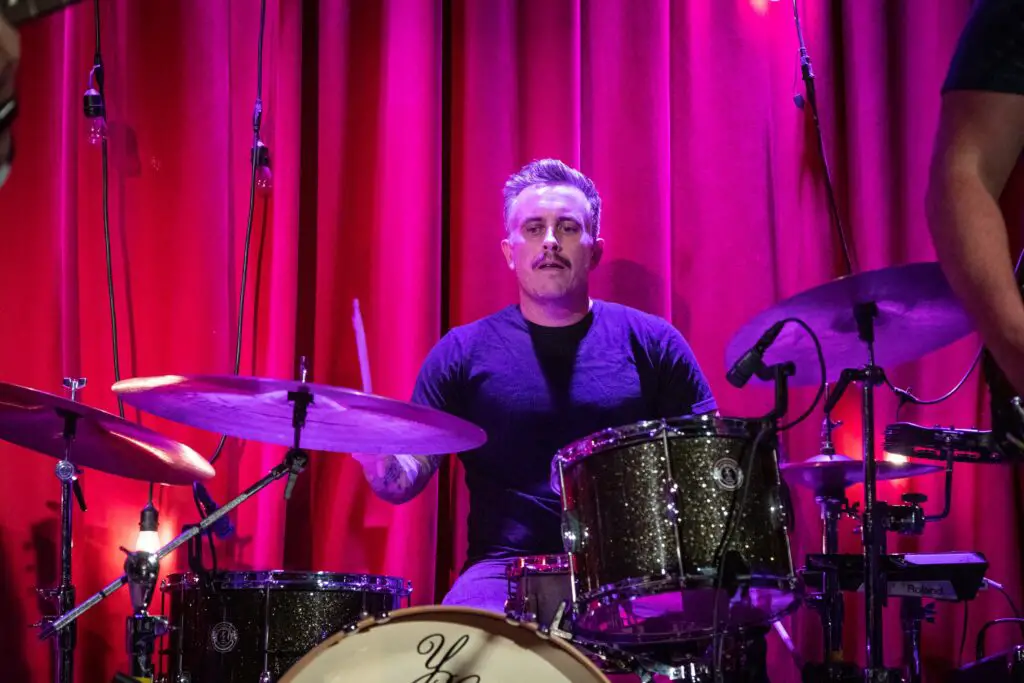 AJOMT: Can we expect some new material?
Jonathan: There's new material in my head. I haven't shown it to anybody yet. If the guys are interested and the timing works…
AJOMT: We didn't see you on the list of artists for Bluesfest, but will you be at any summer festivals?
Chris: Not right now. We had the mindset of we're not going to do anything, and then a month ago we decided we need to practice so we're easing back in. We haven't even really talked about anything so we'll probably get together in a couple of weeks and talk about what we want to do.
Dan: We would always feel we need to get our applications in for all the summer festivals and this year we [thought] "Let's go at our own pace and if we feel like doing these then we will and if not, let's not." For many people that is their living and [it was hard] having that stop for two years. We've all pushed ahead in our own careers and our own families. It's really difficult to find that balance. After two years of getting comfortable in other areas to say ok it's time to get our mindset back into this, I think that's why we're giving ourselves a different set of parameters or no parameters at all, let's just see what direction we want to go and see what we're comfortable with, not make anyone feel like they're forced to do anything.
AJOMT: With your young families, and educators in the family have you thought about doing anything in the music education sphere to help inspire the next generation of musicians?
Mike: Music education is coming back, I've taught math and language for the last three years and I was a grade 2-8 music teacher [before the pandemic]. It's coming back, this fall everything's back.
Dan: I teach at Kanata Academy. They gave me the music curriculum and told me to teach guitar and ukulele. It's the perfect job, I do that a few times a week. I run a music school too, The Spark Music Academy. It's worked pretty well, I switched everyone over to [online] and now that I do in-person lessons again some people still prefer the online; and I have students in Singapore and in the United States. It's kind of a silver lining of the pandemic. It opened up [the chance] to advertise in different places and I have teachers that work for me and live in Toronto or [other places].
Jonathan Chandler – lead vocals, guitar
Dan Hay – lead guitar, lap steel guitar, backing vocals
James Nicol – bass, backing vocals
Christopher Wilson – drums
Mike Yates – cello, keyboard, backing vocals
(Olenka Reshitnyk – out sick)